Introduction
If you remember, the Mate 9 Porsche Design was announced along with the regular Mate 9. It used the same hardware except for the screen, which was AMOLED and a curved one at that. It was also prohibitively expensive, and it was only going to be sold through Porsche Design exclusive boutiques. It set off a gadget craving that the regular Mate 9 could not fulfill.
Fast forward a couple of months, and we now hold the Mate 9 Pro in our hands – a smartphone identical to the Porsche Design Edition and a cheaper one, too. Sure, the Mate 9 Pro is not as widely available as the Mate 9, but at least it's not a designer product with an obscene price tag attached to it.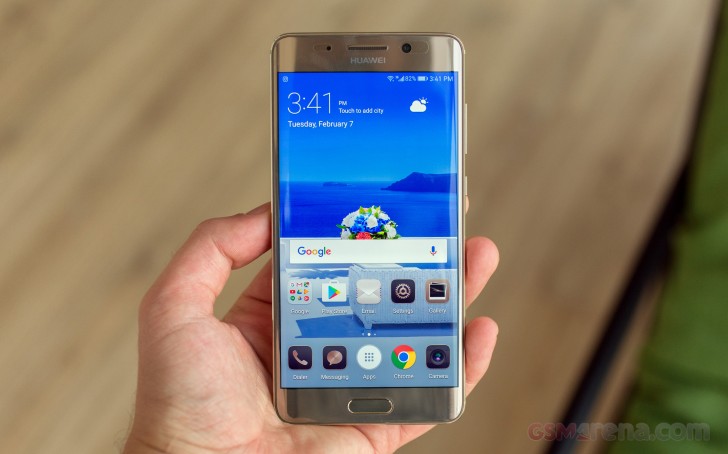 Yes, it's finally, here. A phone, which we have been on the lookout for ever since its announcements. Dreams do come true sometimes. The Huawei Mate 9 surely looked gorgeous and delivered on its promises for flagship performance and great camera, but the Mate 9 Pro has the same specs and then some more.
Technically, not everything is the same – the Mate 9 Pro's AMOLED display is smaller but has a higher resolution. As you'll see below, there are hardly any other differences.
Huawei Mate 9 Pro at a glance:
Body:Aluminum unibody, 2.5D Gorilla Glass 3 front
Screen: 5.5″ curved AMOLED with 1440 x 2,560px resolution (534ppi)
Camera: Leica co-engineered dual camera: 20MP monochrome/12MP color sensors, f2.2, 27mm equiv. focal length, 4-in-1 hybrid autofocus (phase/laser/contrast/depth sensing); dual-LED, dual-tone flash; 2160p and 1080p @ 30/60fps video capture
Selfie cam: 8MP f/1.9; 26mm lens; 1080p @ 30fps video capture
OS: Android 7.0 Nougat with Huawei EMUI 5.0 overlay
Chipset: Kirin 960 chipset: Octa-core CPU (4xCortex-A73@2.4GHz + 4xCortex-A53@1.8GHz), i6 co-processor, octa-core Mali-G71 GPU
Memory: 6GB of RAM; 128GB storage
Battery: 4,000mAh Li-Po (sealed); Fast charging
Connectivity: Dual-SIM; LTE-A (Cat. 12 600/150Mbps); USB-C; Wi-Fi a/b/g/n/ac; GPS/GLONASS/Beidou/Galileo; IR port
Misc: Stereo speakers; Fingerprint reader
Main shortcomings:
Smaller display in comparison with the Mate 9
No microSD expansion
No dust or water resistance
Non-removable battery
No FM radio
The reduced screen size is probably the single potential turn off for the aspiring owners. The downsizing was enough to demote the Mate 9 from a phablet to a regular sized smartphone by current standards. On the other hand, it's a change that you may be more than happy with if the Mate 9 was too big for you.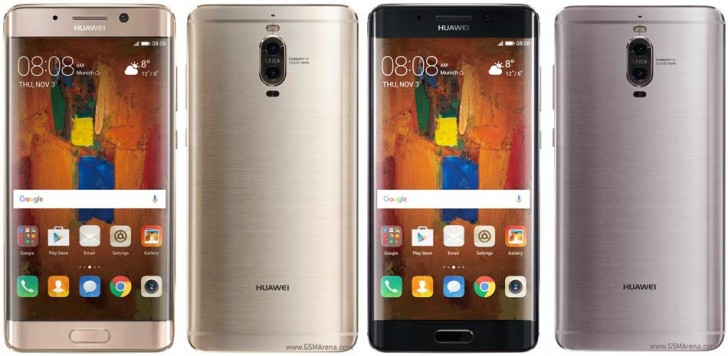 The lack of memory expansion is easily offset by the default 128GB internal storage, while the lack of waterproofing is hardly a surprise as Huawei hasn't introduced it on any of its products.
The spotty availability is probably the worst bit about the Mate 9 Pro, as Huawei hasn't launched the Pro model everywhere where the Mate 9 is available. In fact, the device is currently available in China, India, and apparently in the USA, though the gray import market is seemingly thriving. We guess Huawei either gave some exclusivity rights to the device to Porsche Design in Europe, or they just didn't want it to get in the way of the pending launch of the P10.
The Huawei Mate 9 Pro's hardware checkup begins right after the jump.
Unboxing the Huawei Mate 9 Pro
The Huawei Mate 9 Pro comes in a retail package that leaves no doubt about its premium market position. Aside from the presentation, the contents are pretty lavish, too.
You'll find two additional separate boxes inside and the first one holds the mighty 22.5W charger, a proprietary Type-C cable (more on that in the Battery section), a micro-USB to Type-C adapter, and a headset.
The second one contains the SIM eject tool and a transparent case. The latter snaps tightly onto the Mate and covers the back and the corners.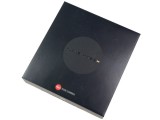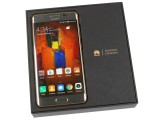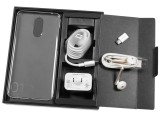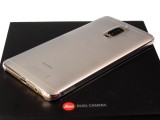 The box looks nice • Unboxing the Mate 9 Pro • The box is full of goodies • Putting the case on
Huawei Mate 9 Pro 360-degree spin
The Huawei Mate 9 Pro measures 152 x 75 x 7.5mm, which is about right for a 5.5-incher and it's very close to the Galaxy S7 edge's measurements. As expected, the Mate 9 Pro is smaller than the Mate 9 – it's 5mm shorter and 4mm narrower.
The Mate 9 has lost some weight – it's 169 g, 21g down from the Mate 9, but 12g heavier than the Galaxy S7 edge.
Design
The Huawei Mate 9 Pro was envisioned as a premium product, and you can tell by the involvement of Porsche Design. But even losing the pricey logos, the superior design and appearance are easy to spot.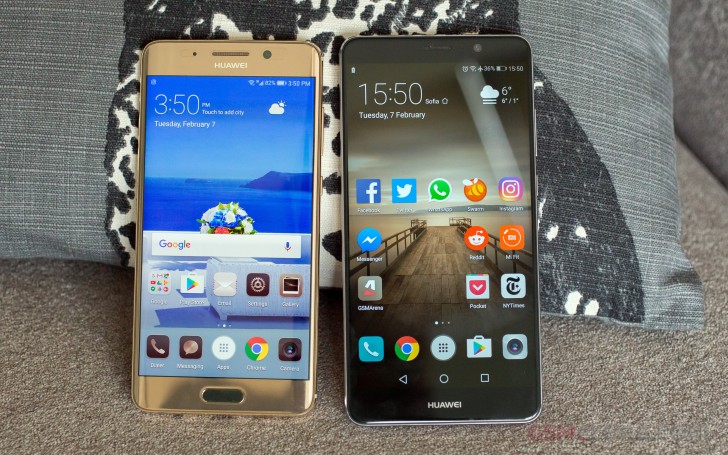 Huawei Mate 9 Pro next to the Mate 9
The curved front glass is an immediate attention grabber. The Galaxy S6 edge originally established the double-edge design, and it was successfully continued as a trend by the Galaxy S7 edge. Huawei's intent to be edgy might have gone a bit too far, though, as the Mate 9 Pro looks are a bit too S7 edge-y, pun intended.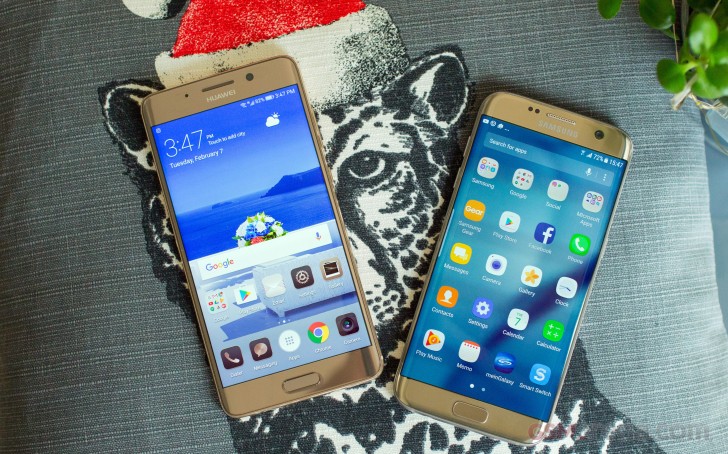 Huawei Mate 9 Pro next to the Galaxy S7 edge
The curved Gorilla Glass 3 keeping the curved 5.5″ AMOLED screen safe should do a fine job. But the Mate 9 Plus might come with a screen protector pre-applied in some markets. While we aren't particularly fond of this cheap piece of polyurethane, you at least have a choice to keep it or remove it, depending on your definition of safety. And having a choice is always a good thing, so we give Huawei credit where it's due.
While the Mate 9 Pro and Galaxy S7 edge have a lot on common on their faceplates, the back is where they part ways.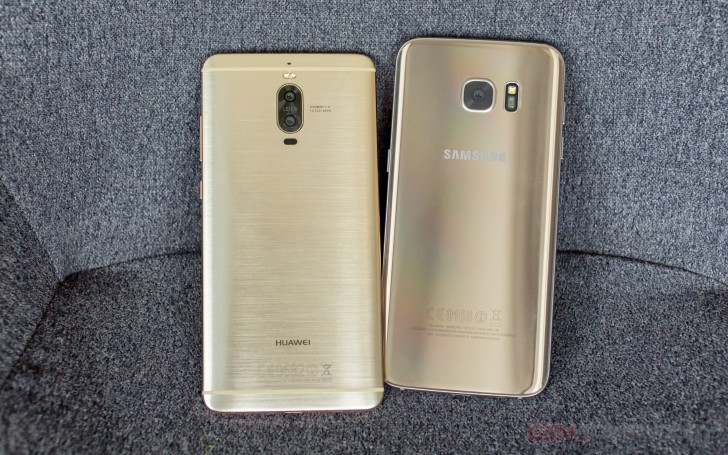 Huawei Mate 9 Pro next to the Galaxy S7 edge
For quite some time we were convinced the Mate 9 Pro's metal back has a lot of similarities to the original Mate 9's. But shortly after the joy of handling a new device wore off, we noticed the backs are completely differentm with the two identical bits being the cameras' bed and the choice of material.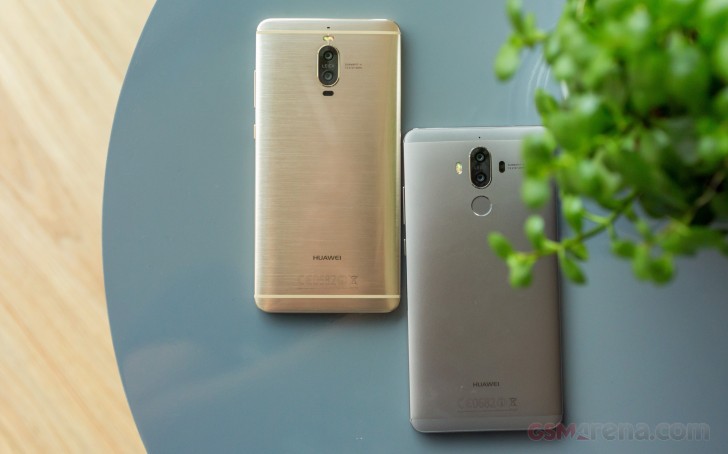 Huawei Mate 9 Pro next to the Mate 9
The brushed pattern and the polished metal are a nice touch and complement well the luxurious front. The plastic lines are unavoidable in a metal unibody, but we like the way Huawei used the top one to emphasize on the dual camera setup. HTC began using the antenna bands in the same way with the One series (M7, M8, M9) and we can now see a few similarities with the gold One M9 model.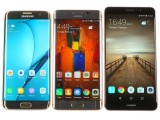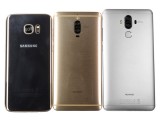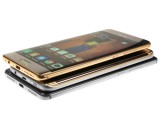 Huawei Mate 9 Pro between the Galaxy S7 edge and the Mate 9
The Huawei Mate 9 Pro may not be unique, but that's true for almost any phone these days. It's the build quality and sturdiness that matter the most and the Mate 9 Pro has got them just right. The curved glass fits perfectly into the metal shell, and there are no gaps whatsoever. Handling the Mate 9 Pro is a premium experience by our book, though all these curves hardly help with the handling.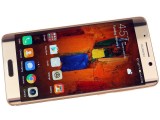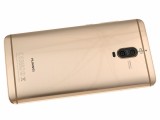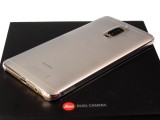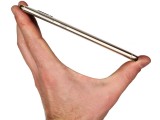 Huawei Mate 9 Pro • Huawei Mate 9 Pro • Handling the Mate p Pro
While the original Mate 9 phablet follows the footsteps of the previous Mates, the Pro flavor breaks the pattern and goes for the best materials and shapes known to the market. You can tell it's different in an instant, and that was the point all along – to be better looking than the Mate 9. It may not be unique, but it's still nothing short of gorgeous.
Device overview
The 5.5″ AMOLED screen is the centerpiece of the Huawei Mate 9 Pro. Above is the earpiece, which also doubles as a second speaker. The ambient light sensor is hidden under the earpiece's grille, which is something we don't see often.
The proximity sensor is responsible for the small black dot left of the earpiece, and there is a tiny RGB LED notification light nearby. The 8MP autofocus selfie is further to the right.
Below the high-res display is a deck with three capacitive keys, all of them – highly customizable. For starters, the Home key is not clickable; it reacts to taps only. It also has an embedded fingerprint scanner, which has the fastest and most accurate sensors we've encountered to date. Huawei has always employed blazing-fast biometric scanners, but this one beats everything else. Oh, and it's always-on so you can wake the phone from standby just by touching it.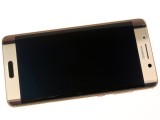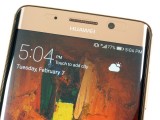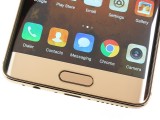 The front • the earpiece also acts as a speaker • the Home key is awesome
The Home key surprises continued once we dug into the Settings menu. You can opt to disable the other two cleverly hidden, though backlighted capacitive keys, and make the Home one a multi-functional tool – one tap for Back, long tap for Home, and swipe left or right on its surface for Task Switcher. It's like Meizu's mTouch key, but even better.
The ejectable SIM bed is on the left, while the volume controls and the power/lock key are on the left.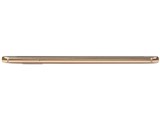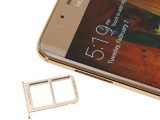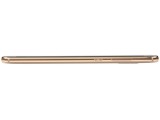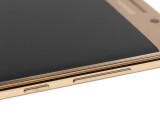 The left side • the dual-SIM bed • what's on the right • the power/lock key
The IR blaster is the only thing of interest at the phone's top. The bottom is pretty crowded, though – there is the USB Type-C port, the primary speaker and mic, and the analog audio jack.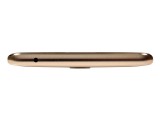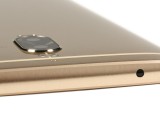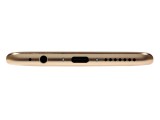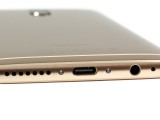 The top side • the IR blaster • the bottom • the USB Type-C port
Finally, the back has the vertically-aligned 12MP color and 20MP monochrome sensors as parts of the second-gen dual camera setup. They are complemented by a two-tone flash and a laser beam to assist the autofocus. The secondary microphone is around, too.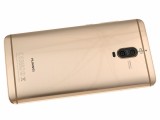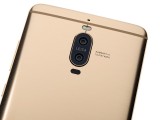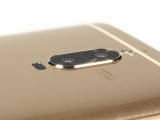 The brushed metal back • the two camera sensors • the Leica setup bulges a bit
Display
The 5.5″ curved AMOLED screen is the Huawei Mate 9 Pro's centerpiece. It's .4″ smaller than the Mate 9's, but has a higher 1440p resolution and thus much higher 534ppi density.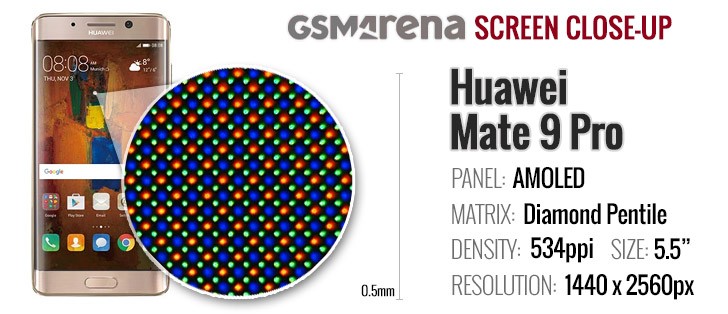 There were quite a few people that thought the Mate 9's screen with its 1080p resolution wasn't exactly a good fit for a phablet flagship and hoped for more. And they got more with the Porsche Design Edition, which however came with a ridiculous markup.
Later we were glad to hear Huawei had plans to release the Porsche Design Mate 9 without its premium branding. And here it is today – Porsche Design or not, the Mate 9 Pro is ready to win over the people for whom the 1080p screen would not suffice.
To be fair, the Mate 9's 5.9″ screen posted flagship-worthy scores across our display tests – brightness, contrast, sunlight legibility. The color accuracy was the only average result, but it didn't ruin the positive impressions we got.
In comparison, the colors provided by the Huawei Mate 9's AMOLED screen are very good, but not as perfect as we'd hoped for. The average DeltaE of 3.8 is excellent, but the colors aren't as consisted – the cyan and red hues are way punchier (DeltaE of 8.1), as are some of the blues, and thus the screen can't be praised for its color calibration. Playing with the color temperature settings didn't help. On the other hand, AMOLED is often imagined as punchy, so we doubt anyone will complain of that. And an average DeltaE of 3.8 is a flagship-worthy score anyway, so even the pixel peepers will have a hard time finding any flaws.
The contrast is as good as an AMOLED screen can offer and the brightness, at 366nits, stays around the average numbers for this type of displays. The AMOLED units aren't known to be very bright, to begin with – the Mate S has a brightness of 372nits, while the P9 Plus hit the 400nits mark.
A definite positive point is that the minimum level of brightness is only 4 nits, which would make for a comfortable reading experience in dark environments.
The black parts of the image do not turn off contrary to what you may have come to expect from AMOLED screens. It's not the first AMOLED display to exhibit this behavior, but we can only guess about the reasons. Some suggest this is to prevent screen burn-in, while others point to backlight leaks – the current passing through the LEDs to sustain the screen refresh rate. Anyway, this shouldn't bother you, but it gives a better explanation of the results below.
Display test
100% brightness
Black, cd/m2
White, cd/m2
Contrast ratio
Huawei Mate 9
0.41
665
1622
Huawei Mate 9 Pro
0.011
366
33273
Huawei Mate S
0.00
372
∞
Huawei Mate 8
0.346
471
1361
Samsung Galaxy S7 edge
0.00
392
∞
Meizu Pro 6 Plus
0.007
450
64286
Samsung Galaxy Note7
0.00
428
∞
OnePlus 3T
0
447
∞
Huawei P9 Plus
0.00
400
∞
Google Pixel XL
0
432
∞
The average brightness on an AMOLED screen sometimes leads to not so impressive sunlight contrast ratios, but still above the average as is the case with the Huawei Mate 9 Pro. The screen visibility is great outside, so there is nothing to worry about. We suspect the factory-applied screen protector might have taken its toll on the sunlight score as it does count for the additional reflectivity.
Sunlight contrast ratio
Samsung Galaxy S6 edge+




4.615

Samsung Galaxy S7 edge




4.439

OnePlus 3




4.424

Samsung Galaxy S7




4.376

HTC One A9




4.274

Samsung Galaxy Note7




4.247

Samsung Galaxy A3




4.241

OnePlus 3T




4.232

Google Pixel XL




4.164

ZTE Axon 7




4.154

Samsung Galaxy S6 edge




4.124

Samsung Galaxy Note5




4.09

Huawei Nexus 6P




4.019

OnePlus X




3.983

Vivo Xplay5 Elite




3.983

Apple iPhone 7




3.964

Oppo R7s




3.964

Huawei P9 Plus




3.956

Meizu Pro 6 Plus




3.935

Lenovo Moto Z




3.931

Samsung Galaxy A7 (2016)




3.918

Samsung Galaxy C5




3.911

Samsung Galaxy C7




3.896

Samsung Galaxy A5




3.895

Samsung Galaxy J7 outdoor




3.879

Samsung Galaxy J2 outdoor




3.873

Samsung Galaxy A8




3.859

Samsung Galaxy A9 (2016)




3.817

Motorola Moto X (2014)




3.816

Samsung Galaxy A5 (2017)




3.804

Samsung Galaxy J7 (2016) outdoor mode




3.802

Xiaomi Redmi Pro




3.798

LG V20 Max auto




3.798

Sony Xperia XZ




3.795

Samsung Galaxy A5 (2016)




3.789

Apple iPhone 6s




3.783

Meizu Pro 5




3.781

Microsoft Lumia 650




3.772

Samsung Galaxy J7 (2016)




3.756

Oppo F1 Plus




3.709

Vivo X5Pro




3.706

Sony Xperia X Compact




3.694

Samsung Galaxy A3 (2017)




3.688

Apple iPhone SE




3.681

Huawei Mate 9




3.68

Samsung Galaxy A7




3.679

Meizu PRO 6




3.659

BlackBerry Priv




3.645

Apple iPhone 7 Plus




3.588

Apple iPhone 6s Plus




3.53

Motorola Moto Z Play




3.526

Samsung Galaxy J3 (2016)




3.523

Samsung Galaxy J3 (2016) outdoor mode




3.523

Acer Jade Primo




3.521

Microsoft Lumia 950




3.512

Oppo R7 Plus




3.499

nubia Z11




3.466

Samsung Galaxy J7




3.422

Meizu MX5




3.416

LG V20




3.402

Oppo R9s




3.352

Oppo R7




3.32

Lenovo P2




3.316

Xiaomi Mi 5s




3.276

Samsung Galaxy J2




3.235

Sony Xperia X Performance




3.234

Xiaomi Mi Note 2




3.228

Motorola Moto X Play




3.222

Huawei Mate 9 Pro




3.206

Huawei P9




3.195

Lenovo Vibe Shot




3.113

Motorola Moto X Force




3.105

LG Nexus 5X




3.092

Huawei Mate S




3.073

Microsoft Lumia 640 XL




3.065

Sony Xperia X




2.989

Huawei Mate 8




2.949

Xiaomi Redmi 3S




2.913

Sony Xperia XA Ultra




2.906

LG G5




2.905

HTC One S




2.901

Xiaomi Redmi 3s Prime




2.893

Xiaomi Mi 5s Plus




2.884

Sony Xperia Z5




2.876

Microsoft Lumia 550




2.851

Lenovo Moto M




2.813

Xiaomi Redmi 3 Pro




2.803

Sony Xperia Z5 compact




2.784

Meizu MX6




2.751

LG V10




2.744

Xiaomi Redmi 3




2.735

Meizu M5




2.71

Sony Xperia M5




2.69

Huawei P9 Lite




2.679

Xiaomi Redmi 4 Prime




2.679

Vivo V3Max




2.659

Xiaomi Mi Mix




2.658

Xiaomi Mi 4i




2.641

Sony Xperia XA




2.609

Motorola Moto G4 Plus (max auto)




2.582

Motorola Moto G4 Plus




2.582

Xiaomi Mi 4c




2.574

LeEco Le Max 2




2.567

Asus Zenfone 3 ZE552KL




2.563

Microsoft Lumia 640




2.563

Lenovo K6 Note




2.544

Lenovo Moto G4




2.544

Oppo F1




2.528

Sony Xperia Z5 Premium




2.525

Huawei Honor 7 Lite / Honor 5c




2.506

Sony Xperia M4 Aqua




2.503

Oppo F1s




2.481

Motorola Moto G




2.477

Lenovo Vibe K5 Plus




2.473

Huawei G8




2.471

Huawei nova




2.467

Sony Xperia Z




2.462

Lenovo Vibe K5




2.459

Meizu m3 max




2.447

Huawei Honor 7




2.406

Sony Xperia E5




2.386

ZUK Z1 by Lenovo




2.382

Samsung Galaxy J5 (2016)




2.378

HTC 10




2.378

Meizu m1 note




2.362

Huawei nova plus




2.329

HTC One E9+




2.305

Alcatel One Touch Hero




2.272

Apple iPhone 4S




2.269

Lenovo Vibe K4 Note




2.254

Sony Xperia C5 Ultra




2.253

Xiaomi Redmi Note 3 (MediaTek)




2.249

Sony Xperia C4 Dual




2.235

Xiaomi Mi Note




2.234

Motorola Moto G (2014)




2.233

Huawei P8




2.196

Meizu M5 Note




2.189

Huawei Honor 6




2.169

Xiaomi Redmi Note 2




2.166

OnePlus Two




2.165

HTC One X




2.158

Xiaomi Redmi Note 4




2.145

LG Aka




2.145

Archos 50 Diamond




2.134

Xiaomi Redmi Note




2.119

Acer Liquid X2




2.084

Huawei P8lite




2.078

Moto G 3rd gen max manual




2.026

Xiaomi Mi Max




1.996

Sony Xperia E4g




1.972

OnePlus One




1.961

Meizu m3 note




1.923

BlackBerry Leap




1.892

Meizu m2 note




1.892

ZTE Nubia Z9 mini




1.759

Sony Xperia U




1.758

Asus Zenfone Selfie




1.68

Motorola Moto E (2nd Gen)




1.675

ZTE Nubia Z9




1.659

Jolla Jolla




1.605

Motorola Moto E




1.545

Sony Xperia M




1.473

Xiaomi Redmi 2




1.311

HTC Desire C




1.3

Sony Xperia C




1.283

Meizu MX




1.221

Sony Xperia E




1.215
Battery life
The Huawei Mate 9 Pro may be smaller than the Mate 9, but its battery capacity didn't take a hit. It's still a 4,000mAh unit, and it's still one of the most generous offerings in the premium segment.
Huawei Mate 9 posted an excellent score of 82h, but we weren't quite sure what to expect of the new AMOLED screen on the Mate 9 Pro.
With that preface, the Mate 9 Pro posted an excellent battery endurance of 87 hours. It performed admirably across all of our routines – video, call, web, and standby.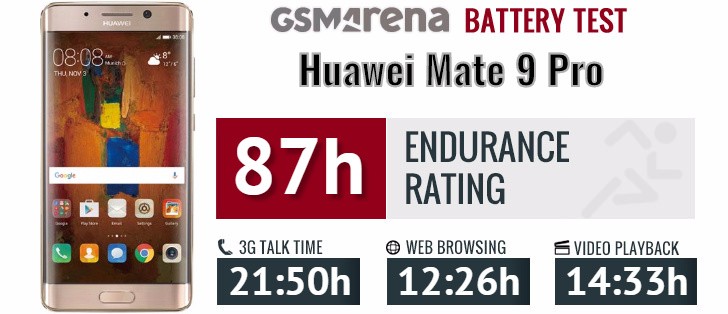 The battery testing procedure is described in detail in case you're interested in the nitty-gritties. You can also check out our complete battery test table, where you can see how all of the smartphones we've tested will compare under your own typical use.
There's a few things to be said about Huawei's charging procedures. The phone ships with a beefy charger capable of outputting 5V/4.5A, 4.5V/5A, and 5V/2A, with the 22.5W maximum only exceeded by Oppo with their VOOC chargers (some of them 25W), and Motorola with its 25W TurboCharger, which doesn't seem to be available for purchase.
Now, similarly to Oppo's phones, to achieve these crazy numbers you need to use the Mate 9 Pro's charger together with the Mate 9 Pro's USB cable (and the Mate 9 Pro itself, duh!). You do get nice purple accenting on the connectors to notify they all comply with the same proprietary charging standard.
Swap just the cable with another one and you'll be down to 5V/2A, which is still not the worst-case scenario – some third-party Qualcomm QuickCharge 3.0 chargers we had lying around were rendered nearly worthless as the Mate would only draw 1A at 5V. Then again, most existing 5V/2A chargers (say, the Samsung one from the Galaxy S7) will output exactly that with any decent cable.
Upon closer inspection, we saw that the Huawei-made cable has four extra pins on the Type-C end in addition to the standard Type-C power pins, obviously. It sounds like that Huawei, similar to Oppo, is charging two separate batteries inside the phones.
There is nothing inherently wrong about that, just don't expect to get the same charging speed with third-party chargers.
And speaking of charging speeds, with its adapter and cable the Mate 9 Pro charges ridiculously fast. Mere ten minutes of charging gets you from 2% (that's the lowest point before the device powers off) to 20%. Thirty minutes from the start of the charging and you're looking at 55%. Sixty minutes gets you to 88%, and 95% is achieved in 75min after plugging it in. After the 60% mark charging speed starts tapering off, so you should have that in mind. Finally, flat to full is 90 minutes in total and that's a respectable speed for a 4000mAh battery.
The phone does get warm in the early stages, but only slightly so, and once it's past the fast charging stage, it goes back down to room temperature. Quite an impressive feat overall, but with the caveat that all the bits of the charging system are proprietary.
Connectivity
The Huawei Mate 9 Pro supports LTE-Advanced with 3-carrier aggregation, Cat.12 LTE for theoretical speeds up to 600Mbps down and 150Mbps up, 20 LTE bands, 6 3G bands and the usual quad-band 2G.
There's full-fledged Wi-Fi support – a/b/g/n/ac, dual-band, with Wi-Fi Direct and hotspot support. You also get Bluetooth v4.2 for peripherals, A-GPS, GLONASS, Beidou, and Galileo for positioning, and NFC for, well, near field communication, right. We know some of you will also be glad to hear there's also an IR emitter on the Mate 9 Pro.
The Type-C USB port only adheres to the USB 2.0 spec (480Mbps theoretical) and not USB 3.0 or 3.1. It's not your average Type-C port either, as it has two more contacts for the SuperCharge tech, but those don't interfere with using standard-spec Type-C accessories.
There's an old-school 3.5mm headphone jack too. What the Huawei Mate 9 Pro lacks is FM radio support.
Software overview
The Huawei Mate 9 Pro runs on Android 7.0 Nougat. As usual, you get a healthy dose of Huawei customizations behind the Emotion UI name or EMUI. The proprietary overlay is a brand-new version 5.0, which reuses a lot from the previous iterations but also introduces a few changes.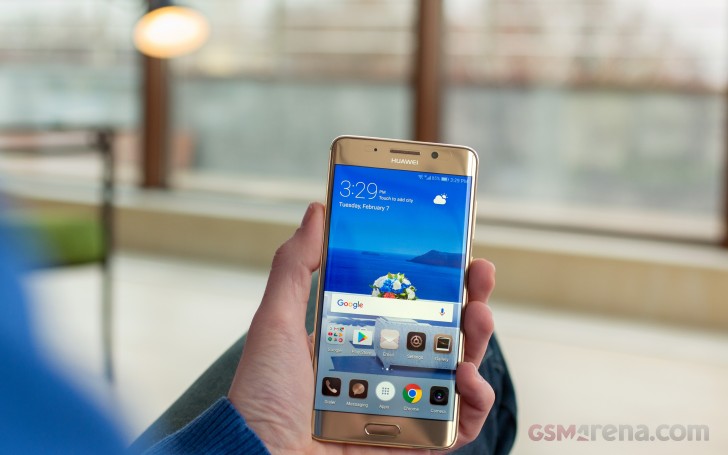 The lockscreen is one of the elements being carried over, but it was already quite functional. The Magazine unlock style greets you with a different wallpaper every time you wake up the device, with new ones being downloaded when you connect to Wi-Fi and an option to delete the ones, which are older than three months.
The lockscreen itself is minimalist at first glance, with just a large clock with a date and a shortcut to the camera. You can also quickly start the camera by a double press of the Volume Down button with the option to take a snap right away, or just go to the app.
Back to the lockscreen, you can pull up an iOS-style menu from the bottom, where you get a ton of functionality. The top row lets you manage the wallpapers – you can remove, favorite, share, or pause on the current one. In addition to that, you get a row of handy shortcuts for basic apps – voice recorder, calculator, flashlight, timer, and QR code reader.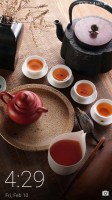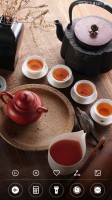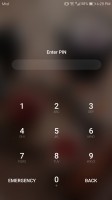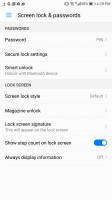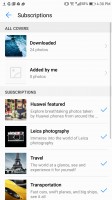 The Lockscreen
Now, you likely won't be seeing much of the lockscreen, though, as the fingerprint unlock works so fast it makes it redundant.
On top of the multi- and guest user support that comes standard with Android, you can also set up a so-called Private space, which you can access with a different fingerprint. The data accessible there is independently encrypted, Huawei says, and is inaccessible to the other users. Only one Private space can be set up per device.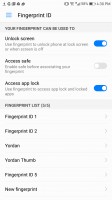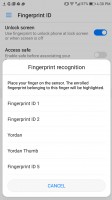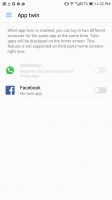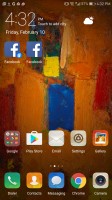 Fingerprint settings • enrolling a fingerprint • Twin app • A couple of Facebook accounts
In addition to that you can have two app instances for some social apps, so two users can access their accounts from the same phone user profile.
We got a little carried away with the privacy talk, but back to basics now. Beyond the lockscreen, we're treated to a pleasant surprise – on top of the usual all-apps-on-the-homescreens approach Huawei now gives you the option to pick the standard Android two-tiered interface with homescreens for your most-used apps and an app drawer for all of them. Kudos to Huawei for letting the user choose.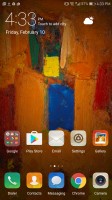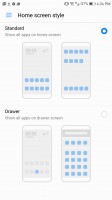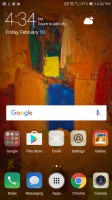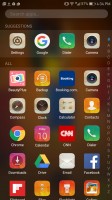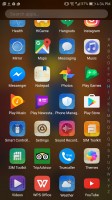 No app drawer by default • but you can opt for one • app drawer shortcut • app drawer
The app drawer is a vertically scrollable list of all your apps, 4 in a row, with a search field on top.
Themes are available as well. A theme will change your homescreen wallpaper, lockscreen style, system and app icons, system font, system color and the sound profile. You can also adjust things like homescreen transition effects.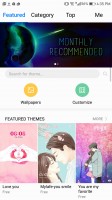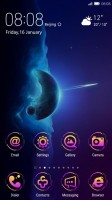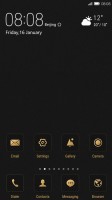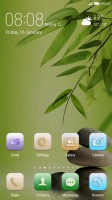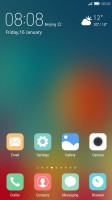 Themes
The notification area is a 50/50 mix between stock Nougat and Emotion 5.0. Huawei has tweaked the look of the quick toggles and added the auto-brightness switch, which Google so stubbornly refuses to keep in plain sight. The notifications themselves look just like on a Pixel.
The task switcher is rather straightforward, but again with added functionality over Google's own – apps in the rolodex can be locked by tapping on the padlock icon, so killing all apps will spare the locked ones. The kill all button is readily available too, not up in the right corner as Google does it.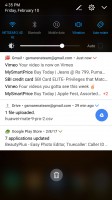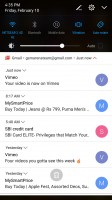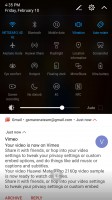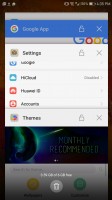 Notification shade, step 1 • • expanding notifications • step 2 with more toggles • task switcher
For certain scenarios, like in-car use, you can enable a Simple homescreen mode, which features large tiles for easy tapping. It's not particularly consistent, though, offering simple version of some menus, but not others – the dialer is the same size as in regular mode (in all fairness it's fairly oversized to begin with).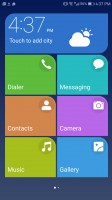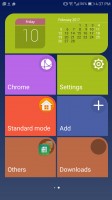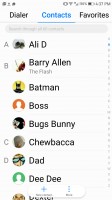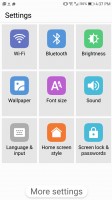 Simple homescreen with a tiled interface
A system-wide scale setting is available from within the display options, the Medium option enabled by default. We'd go with Small as the interface could be quite wasteful otherwise, but if you have trouble seeing tiny menu elements, do go for Large, the option is there. Additionally, you can independently set the font size (you'd be surprised to find out that the default is "Normal").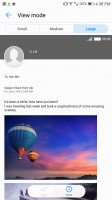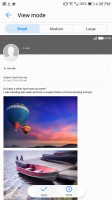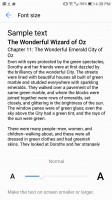 Scale and font size settings
Throughout the interface, you get contextual menus with relevant options right at the bottom of the screen above the navigation bar – hugely convenient for single-handed operation. The universal drawer that pulls out from the left side of Google apps is a lot better suited for left-hand use than right-hand, and even for lefties some of the higher-placed options are still too far away.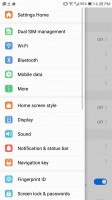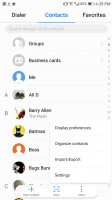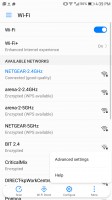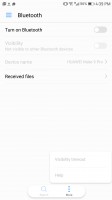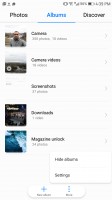 Contextual menus
The Mate 9 Pro features granular notifications control – Huawei had that even before it was a part of vanilla Android. You can control which apps can send you the three types of available notifications – the shade notifications, the lockscreen notifications and the banner style notifications.
This level of control is also employed when it comes to the app access to network data. The user can control the rights of each application to access either WiFi or mobile data. This can save a lot of traffic and help you optimize your data plan and consumption in an easy and convenient way.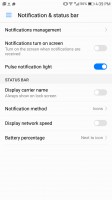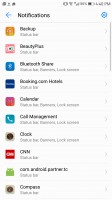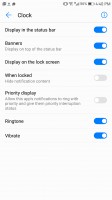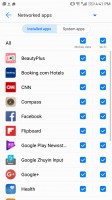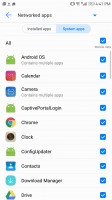 Notification permissions • data permissions
While these are options accessible from the settings menu, they are also featured inside the Phone Manager app. In there you'll also find a one-touch optimization button (which may make you feel better, but we see no reason not to let Android do it for you). A virus scanner, powered by Avast is on board as well.
Battery saving modes are available from the Power manager, two of them. There's Power saving, which imposes some minor limitations on hardware and software, and then there's Ultra power saving, which condenses your entire Mate 9 Pro's functions to a single black homescreen with six shortcuts. You can choose all of those, and you can pick from any app on the phone, so it's very much a psychological constraint than anything else.
By Huawei's estimates, that should triple your battery life, so apparently, there's more going on under the hood. Ah, there's no task switcher in this mode, you only get one app at a time, though judging by the loading times, they have to be in the RAM. Screenshots are disabled.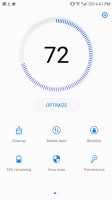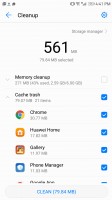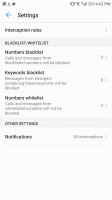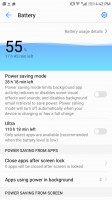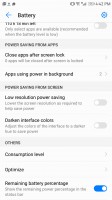 Power manager
The Huawei Mate 9 Pro comes with dedicated capacitive control deck below the screen, so it lacks on-screen Android keys. You can swap the functions of the Back and Tasks keys. You can also opt to make the Home key a multi-functional tool by disabling the Back and Task Switcher buttons. This way you can use one tap for Back, long tap for Home, and a left or a right swipe on its surface for Task Switcher. It's like Meizu's mTouch key, but better.
You can enable the so-called Floating dock – it's a virtual key you can move anywhere on the screen, allowing you to expand it to the primary Android keys – Back, Home, Task Switcher, Lock and Close all running apps. It will help you control your phone with just one hand.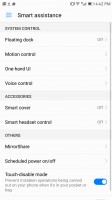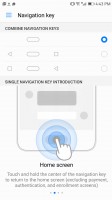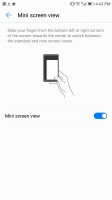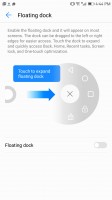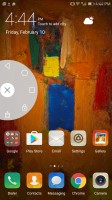 Smart assistance • navigation key options • mini screen view • floating dock • floating dock in action
Motion control also plays a significant role on the Huawei Mate 9 Pro as it did on previous Huawei models. There are flip gestures, as well as picking up, tilting and even things like knuckle detection and drawing. All of those are extensively customizable to your liking as well.
You can start recording a video of your interaction with the UI by the intuitive double knock with two knuckles while drawing an S with a single knuckle launches the scrolling screenshot. Thank goodness that latter is available from the regular Power/Volume down shortcut.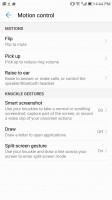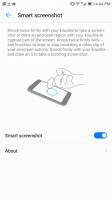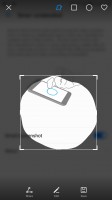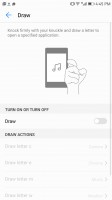 Motion and knuckle gestures
The Mate 9 Pro's multi-window feature has been expanded since its basic Mate 8 days. While you're in one app, holding down the task switcher key will send it in the top half of the screen with recent apps taking up the bottom half for you to select which one to view. You'll get the same effect by one-knuckle-swiping left or right.
You can resize the windows swap the two, but you need to have both apps already open in the task switcher to be able to take advantage – you can't launch a new app once you're in multi-window.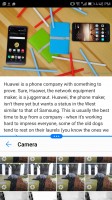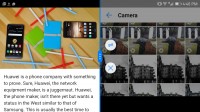 Multi window works
Voice control lets you operate the Mate 9 Pro entirely hands-free. The functionality boils down to the ability to trigger a voice command even when the phone is locked and its screen is off.
Huawei does this by always listening for a "trigger word", which by default is… "Okay, Emy." Once triggered, the phone wakes up and awaits further voice instructions, like placing a call. Speech awareness is also customizable. The wake-up phrase can be changed, and you can also train the device to recognize better your voice.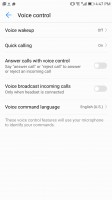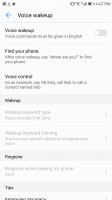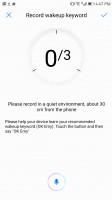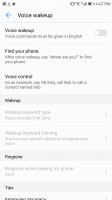 Voice control
Performance
The Huawei Mate 9 Pro is powered by the same Kirin 960 SoC we first met in the original Mate 9. It is developed in-house by Huawei's own chipmaker HiSilicon. Kirin chipsets have been around for a while now, but there are a lot of firsts that come along with this particular chipset – most notably, new ARM CPU cores and a new GPU.
The main processor within the chipset consists of a quad-core Cortex-A73 cluster clocked at 2.4GHz, plus a quad-core array of the familiar Cortex-A53 cores ticking at 1.8GHz. The Cortex-A73s boast a 30% power efficiency compared to the previous A72 design, while also promising improved performance.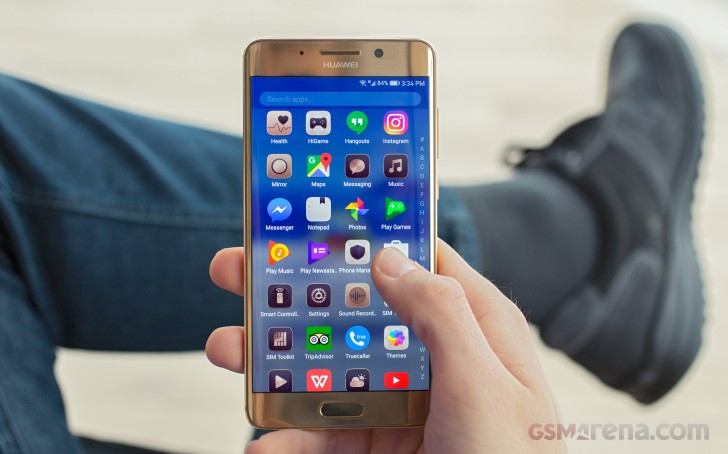 We kick off our benchmark routine the CPU testing, and that means some GeekBench-ing. In version 4 of the popular benchmark, the Mate 9 Pro easily tops the flagship chart in multi-core, though it scores a few points less than its Mate 9 sibling. The iPhone 7 Plus score is 8-9% lower, followed by the Exynos-backed Galaxy S7 edge. The highest-ranked droid with a Qualcomm core – the Snapdragon 821-powered Xiaomi Mi 5s Plus – is behind by a country mile.
GeekBench 4 (multi-core)
Higher is better
Huawei Mate 9




6112

Huawei Mate 9 Pro




5845

Apple iPhone 7 Plus




5664

Samsung Galaxy S7 edge (E8890)




5583

Xiaomi Mi 5s Plus




4333

Google Pixel XL




4152

Meizu Pro 6 Plus




4142

Samsung Galaxy S7 edge (S820)




4128

LG V20




3824
In the single-core test the Kryo cores inside Qualcomm's top-of-the-line SoC make up for it, nearly matching the Mate 9 and Mate 9 Pro's A73s. The iPhone 7's Fusion cores are in a league of their own in single-core computation powers, though.
GeekBench 4 (single-core)
Higher is better
Apple iPhone 7 Plus




3473

Huawei Mate 9 Pro




1939

Huawei Mate 9




1898

Samsung Galaxy S7 edge (E8890)




1860

Xiaomi Mi 5s Plus




1815

Samsung Galaxy S7 edge (S820)




1696

LG V20




1576

Google Pixel XL




1507

Meizu Pro 6 Plus




1467
While the Kirin 960 choice of graphics – the Mali-G71MP8 – didn't ace any test with the Mate 9, it is an enormous improvement over the previous generations of HiSilicon chips and is finally worthy for a flagship. Now that the Huawei Mate 9 Pro has 1.78 times the resolution of its Mate 9 sibling, we expected some noticeable drop in the GPU performance.
The BaseMark X test is a perfect demonstration of the GPU performance gap between the two devices – there is a 25% drop in the Mate 9 Pro score courtesy of the higher screen resolution. On the other hand, the lower score is still a top-notch one, consistent with the grades of other flagships with QuadHD screens.
Basemark X
Higher is better
Huawei Mate 9




36519

Xiaomi Mi 5s Plus




36062

Samsung Galaxy S7 edge (S820)




32160

Google Pixel XL




30861

LG V20




29385

Samsung Galaxy S7 edge (E8890)




28480

Huawei Mate 9 Pro




27600

Meizu Pro 6 Plus




23513

Huawei Mate 8




15593

Huawei P9 Plus




15058
Moving on to GFXBench and the framerates, the Mate 9 Pro didn't quite leave us raving, posting only average scores. It trails behind the current crop of flagships, but not by a large margin.
GFX 3.1 Manhattan (1080p offscreen)
Higher is better
Apple iPhone 7 Plus




39

Google Pixel XL




32

Samsung Galaxy S7 edge (S820)




32

Xiaomi Mi 5s Plus




30

Samsung Galaxy S7 edge (E8890)




29

LG V20




29

Meizu Pro 6 Plus




25

Huawei Mate 9 Pro




22

Huawei Mate 9




22

Huawei P9 Plus




10

Huawei Mate 8




10
GFX 3.1 Car scene (offscreen)
Higher is better
LG V20




20

Google Pixel XL




19

Samsung Galaxy S7 edge (S820)




18

Xiaomi Mi 5s Plus




18

Samsung Galaxy S7 edge (E8890)




15

Huawei Mate 9




13

Meizu Pro 6 Plus




13

Huawei Mate 9 Pro




12

Huawei P9 Plus




6.2
The onscreen tests matter the most, though, as the native resolution performance is more important for flagships with 1440p screens or more. Here the Mali-G71MP8 does better and catches up with the Adreno 530 (LG V20) and the Mali-T880MP12 (Galaxy S7 edge). While the Huawei Mate 9 Pro falls off short of the competition, these scores still mean it will provide you with top of the line performance.
GFX 3.1 Manhattan (onscreen)
Higher is better
Apple iPhone 7 Plus




42

Xiaomi Mi 5s Plus




32

Huawei Mate 9




23

LG V20




17

Google Pixel XL




17

Samsung Galaxy S7 edge (S820)




16

Samsung Galaxy S7 edge (E8890)




15

Meizu Pro 6 Plus




13

Huawei Mate 9 Pro




12

Huawei P9 Plus




11

Huawei Mate 8




11
GFX 3.1 Car scene (onscreen)
Higher is better
Xiaomi Mi 5s Plus




19

Huawei Mate 9




14

LG V20




12

Google Pixel XL




11

Samsung Galaxy S7 edge (S820)




10

Huawei Mate 9 Pro




8.2

Samsung Galaxy S7 edge (E8890)




7.8

Meizu Pro 6 Plus




7

Huawei P9 Plus




6.8
The final GPU test we did is the BaseMark ES 3.1, which was topped by the Huawei Mate 9. Due to the higher resolution, the Mate 9 Pro posted a lower score but is on par with the Adreno 530 (Galaxy S7 edge, Mi 5s Plus).
Basemark ES 3.1 / Metal
Higher is better
Apple iPhone 7 Plus




1517

Huawei Mate 9




794

Galaxy S7 edge (E8890)




733

Meizu Pro 6 Plus




642

Google Pixel XL




626

Galaxy S7 edge (S820)




624

Huawei Mate 9 Pro




616

Xiaomi Mi 5s Plus




538

LG V20




526

Huawei Mate 8




311

Huawei P9 Plus




214
The original Mate 9 scored great in the compound benchmark tests such as AnTuTu and BaseMark OS II 2.0, but with its 1440p resolution, the Mate 9 Pro was slightly handicapped here. The good news is the Mate 9 Pro still tops the chart in the BaseMark OS test routine. In Antutu it's just on par with the competition.
Basemark OS 2.0
Higher is better
Apple iPhone 7 Plus




3796

Huawei Mate 9




2637

Huawei Mate 9 Pro




2496

Xiaomi Mi 5s Plus




2434

Galaxy S7 edge (S820)




2352

Google Pixel XL




2281

LG V20




2159

Huawei P9 Plus




2099

Galaxy S7 edge (E8890)




2050

Huawei Mate 8




2017
AnTuTu 6
Higher is better
Apple iPhone 7 Plus




173110

Xiaomi Mi 5s Plus




155185

LG V20




141945

Google Pixel XL




141186

Samsung Galaxy S7 edge (S820)




132849

Samsung Galaxy S7 edge (E8890)




129229

Huawei Mate 9 Pro




128719

Huawei Mate 9




122826

Meizu Pro 6 Plus




113397

Huawei P9 Plus




97392

Huawei Mate 8




91609
Huawei Mate 9 Pro has the fastest processor around, while it's graphics skills are very good, though fall short of the excellent mark. Yet, the all-round benchmarks we ran put the Mate 9 duo on top of all other Android-based smartphones we've tested so far, and that's something you can't ignore.
The Mate 9 Pro is a properly equipped flagship and its Kirin 960 chip is future-proof for the years to come. Thanks to the superb fabrication process, the Mate's internals don't get hot even at full throttle. Another benefit is the energy efficiency, which we already praised in our battery life test.
Long story short – the Huawei Mate 9 Pro is a pure-bred flagship with stutter-free performance and great multi-tasking potential thanks to those six gigs of RAM. The artificial tests show it is a great all-round performer and we only have overwhelmingly positive real-life impressions.
Telephony
The Mate 9 Pro's dialer shares a common interface with the contacts app. There are no groundbreaking features here, and nothing missing. A nice touch is that when making calls on speakerphone, you can have a 120-degree directional limit for the microphone meaning unwanted side noises won't be picked up.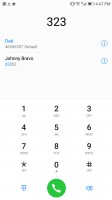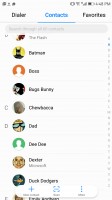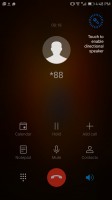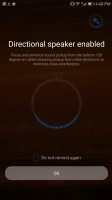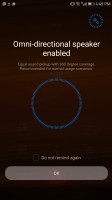 Smart dialing • contacts • in-call interface • directional speaker • omni-directional speaker
The dual-SIM settings menu lets you rename cards, disable them from software and select which one does calls or data by default. The interface leads us to believe that while 4G may be limited to just one card, both get 3G connectivity in addition to 2G, which the specs don't indicate.
The interface is not ideal in that dual SIM settings is in one menu, while the mobile networks are in a different one, and you may need to do a little back-and-forth to set things up precisely to your liking – say limit the primary card to 3G. 'Primary' as in the default card that gets 4G connectivity – you choose that in dual SIM settings. Then in the mobile networks section you get to pick the preferred network type, but only for this primary card – the other one makes do with the rest of the available radios.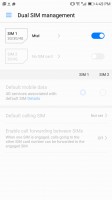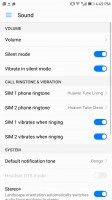 Dual-SIM settings
Loudspeaker
Knowing the excellent loudspeaker loudness, we got from the Mate 9, we expected the same with the Pro flavor, and we got it. The Mate 9 Pro posted very high numbers in all three of our tests, securing an Excellent mark. Not only that, but it sounded clear and distortion free even at maximum volume.
The Mate 9 Pro, just like the Mate 9, actually has stereo speakers, sort of. The earpiece doubles as left channel, when the phone is held in landscape, and it does create a stereo effect even though the earpiece is quieter than the main speaker. When in portrait, there is no such channel separation, and instead, the earpiece is used as a tweeter, while the main speaker outputs the mid and low frequencies. Unfortunately, the drawback of this implementation is that there is an annoying pause in sound playback every time you switch the phone's orientation.
| | | | | |
| --- | --- | --- | --- | --- |
| Speakerphone test | Voice, dB | Pink noise/ Music, dB | Ringing phone, dB | Overall score |
| Huawei Mate 8 | 67.8 | 65.8 | 66.6 | Below Average |
| Xiaomi Mi 5s Plus | 65.0 | 68.2 | 70.8 | Average |
| OnePlus 3T | 61.0 | 69.3 | 78.3 | Good |
| Samsung Galaxy S7 edge | 70.0 | 69.1 | 71.8 | Good |
| Apple iPhone 7 Plus | 68.3 | 72.2 | 72.9 | Good |
| Huawei P9 Plus (stereo) | 66.9 | 70.0 | 76.9 | Good |
| LG V20 | 68.2 | 68.6 | 80.9 | Good |
| Huawei Mate 9 Pro | 67.2 | 72.4 | 79.5 | Very Good |
| Huawei P9 Plus (regular) | 71.7 | 73.7 | 81.3 | Very Good |
| Huawei Mate 9 Pro (stereo) | 67.6 | 74.2 | 91.7 | Excellent |
| Huawei Mate 9 | 83.1 | 74.5 | 85.0 | Excellent |
Pre-installed apps
The Mate 9 Pro ships with WPS office, which can be used for some basic document editing on the go. It can handle text documents, spreadsheets, and presentations as well as PDF files. It can also export to PDF.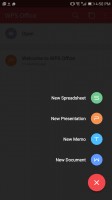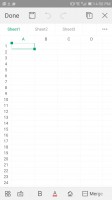 WPS office
Huawei has bundled the Mate 9 Pro with its Health app, which tracks steps and calculates calories burnt, but can also supposedly count the number of floors you've climbed.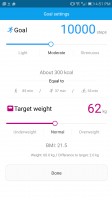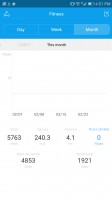 Health app
You also have a ton of basic tools preloaded, including a proper file manager, compass, sound recorder (with pre-sets for directional recording taking advantage of the multiple mics), and flashlight.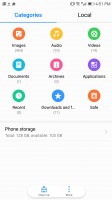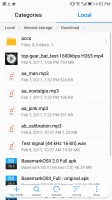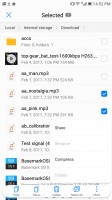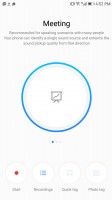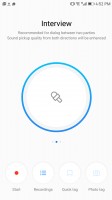 Very good file manager • voice recorder
The bundled Smart controller app has a large database of devices with pre-loaded IR commands, and in less than a minute we had a TV and a set-top box set up and operational via the smartphone.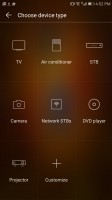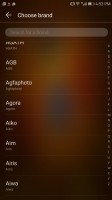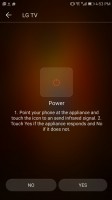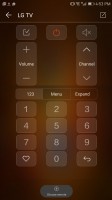 Smart controller makes use of the IR emitter
Gallery
The Mate 9 Pro comes with a no-frills gallery app. It defaults to a timeline, which sorts your images by the date you've taken them. The pinch gesture is available for setting thumbnail size. You can opt for the standard Album view with all of your images sorted in different albums, and you can also have hidden albums, though that's more of an organizational tool than a privacy one – they are there when you hit hidden albums.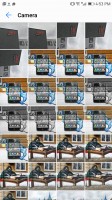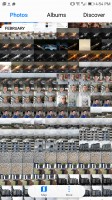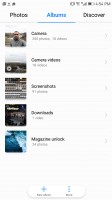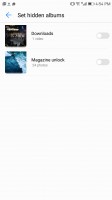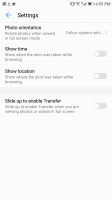 Gallery views
Opening a single image lets you quickly delete or rotate it, as well as gives you a host of sharing options. The info icon up top gives some pretty detailed information about the image, including a histogram.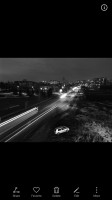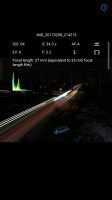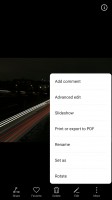 Viewing a single image
You can also go into a very capable editor with options for light and exposure adjustments (so you can bring out the shadows or the highlights), levels, filters (more than Instagram and Prisma combined) and beauty enhancements.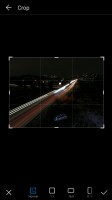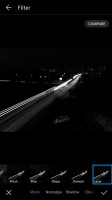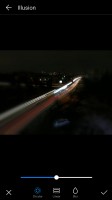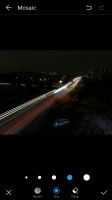 The image editor is quite capable
Video player
The Mate 9 Pro's video player is pretty basic, much like the one on the Mate 8 – its sole option is playback speed. What Huawei has added on this model is floating window video playback.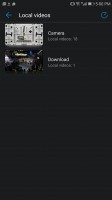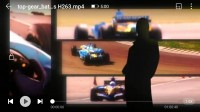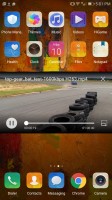 Simplistic video player with few options
Music player
The Mate 9 Pro has quite stylish Music app pre-installed. It offers four default playlists – songs, artists, albums, folders. You can create your playlists, too. The background of the app changes dynamically to match the album art, which is a nice little touch.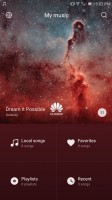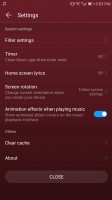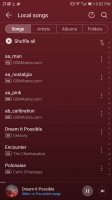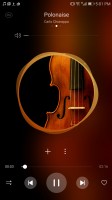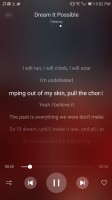 The music player
The Now Playing screen is pretty standard, it offers album art and lyrics. If you're especially into lyrics, you can have them overlayed on top the homescreen.
Audio output is solid
Despite sharing most of its other internals with the regular Huawei Mate 9, the Pro seems to have a different DAC as shown by its results in our test. When plugged into an active external amplifier, the Huawei Mate 9 Pro had perfectly accurate audio reproduction just like its sibling, but its loudness was even higher.
Volume remained great even when we plugged in our standard headphones set, but quality degradation was far more pronounced this time. Moderate amounts of both types of distortions crept in, while stereo crosstalk also suffered a bit. It's still a decent showing, but not as clear as the vanilla Mate 9.
And now here go the results so you can make your comparison.
| | | | | | | |
| --- | --- | --- | --- | --- | --- | --- |
| Test | Frequency response | Noise level | Dynamic range | THD | IMD + Noise | Stereo crosstalk |
| Huawei Mate 9 Pro | +0.03, -0.03 | -94.1 | 95.4 | 0.0021 | 0.0070 | -94.0 |
| Huawei Mate 9 Pro (headphones attached) | +0.19, -0.06 | -93.1 | 94.2 | 0.382 | 0.445 | -62.8 |
| Huawei Mate 9 | +0.03, -0.01 | -92.2 | 93.0 | 0.0026 | 0.0093 | -93.3 |
| Huawei Mate 9 (headphones attached) | +0.06, -0.05 | -91.1 | 91.8 | 0.016 | 0.056 | -63.5 |
| Huawei Mate 8 | +0.01, -0.03 | -97.8 | 99.1 | 0.0054 | 0.0087 | -97.3 |
| Huawei Mate 8 (headphones attached) | +0.02, -0.09 | -97.3 | 97.9 | 0.015 | 0.078 | -81.3 |
| Google Pixel XL | +0.01, -0.03 | -94.0 | 94.0 | 0.0033 | 0.0066 | -92.9 |
| Google Pixel XL (headphones attached) | +0.17, -0.04 | -92.0 | 92.7 | 0.0067 | 0.125 | -62.0 |
| Xiaomi Mi 5s Plus | +0.06, -0.02 | -83.9 | 83.0 | 0.0033 | 0.047 | -84.9 |
| Xiaomi Mi 5s Plus (headphones attached) | +0.95, -0.10 | -82.0 | 83.3 | 0.245 | 0.564 | -48.0 |
| Apple iPhone 7 Plus | +0.10, -0.04 | -93.1 | 93.1 | 0.0015 | 0.0098 | -80.5 |
| Apple iPhone 7 Plus (headphones attached) | +0.10, -0.03 | -93.1 | 93.0 | 0.0013 | 0.015 | -76.8 |
| LG V20 | +0.01, -0.03 | -93.0 | 93.1 | 0.0036 | 0.0075 | -93.7 |
| LG V20 (headphones attached) | +0.04, -0.09 | -92.4 | 92.4 | 0.051 | 0.105 | -57.5 |
You can learn more about the tested parameters and the whole testing process here.
A second appearance of the second-gen Leica camera
The second collaboration with Leica has brought the Mate 9 and Mate 9 Pro a dual camera setup, which consists of a 20MP monochrome sensor and a 12MP RGB one, each of these behind its own 27mm-equiv. f/2.2 aperture lens. The cameras are optically stabilized – evidently both of them because otherwise, the two images wouldn't properly align. So we have 20MP and 12MP – the resolutions don't match, but engineers have come up with an ingenious solution of how to use them.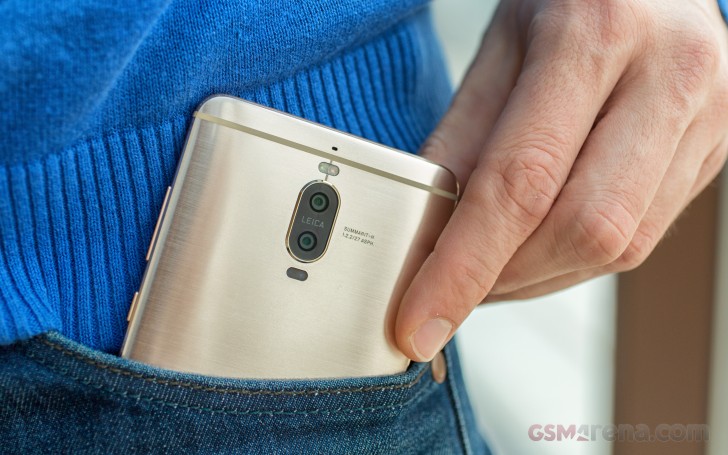 We had a talk with a few of them and we posted the findings on our blog, but for those of you who missed that article, let's just brush up on the basics of what's actually going on when you use the Mate 9 or Mate 9 Pro's camera. That is, unless you're shooting in black and white only – there is not much trickery going on there.
When you're shooting color, the Mate 9 Pro blends the footage from the monochrome camera with the one from the RGB camera with the goal being, you guessed it, to produce better images. The high-res 20MP monochrome camera records luminance data, and that's where most of the fine detail is, while the lower-res 12MP camera provides the color to go with the detail. That way you can get both 20MP and 12MP color photos.
Not only that, but the cameras are capturing multiple frames each, Pixel HDR+ style. Leica engineers didn't specify the exact number of stacked frames, unlike Google who claim to be capturing 9 frames simultaneously.
The camera interface is a bit of a hit and miss affair, as we've previously noted. It's not cluttered, thanks to the two panes that can be evoked from the left and the right – the former is the mode selector, the latter is the settings menu. The two panes don't just slide out with a simple swipe; you need to practically pull them through half the screen for them to stick, which doesn't always happen on the first try, particularly in landscape.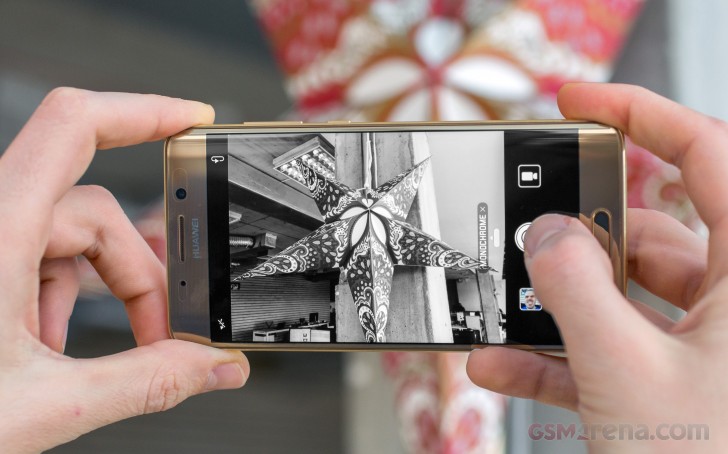 There's also the added convenience of having to flip back and forth between these panes for selecting resolution and color mode. Say, for example, that you like to shoot 20MP monochrome and 12MP color images to use both cameras in their native resolution (to the extent that you get control over that, in the first place). Well, going from 20MP mono to 12MP color requires a switch to color on the left and then, to 12MP on the right.
Another area where the interface could have benefited from some more big-screen optimization is the front/rear camera toggle. Located all the way up in the left corner, the tiny switch is virtually unreachable single-handedly. No swiping on the screen will toggle the cameras either, so you'll be forced to use your other hand.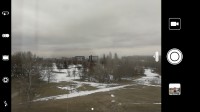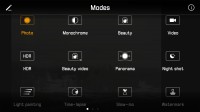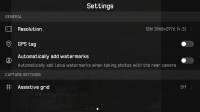 Camera viewfinder • available modes • settings
Also, for a phone with a dedicated 20MP monochrome camera, you'd expect the Mate 9 Pro to have a prominent switch to go to black and white capture somewhere straight from the viewfinder, but no – it's a shooting mode in the left pane. Instead, you get Wide aperture mode, Color saturation selector, and filters, filters of all things. Why not just take a regular photo and let Instagram, or Prisma, or whatever, handle the filters, and put a monochrome button in there, huh, Huawei?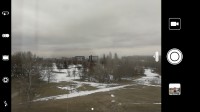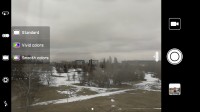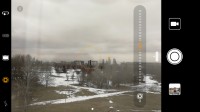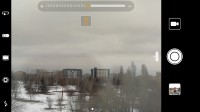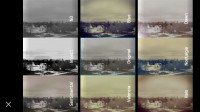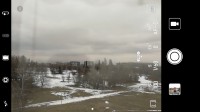 Camera interface • Leica filters • Variable aperture • Zoom • Filters • Manual
Image quality
The Mate 9 Pro's photos are all about the 'Leica look.' What hides behind that ambiguous term is Leica's decades worth of experience in photography, with the resulting subjective perception of image quality. Leica engineers say that the Leica look is at odds with oversaturation and excessive sharpening, so we did expect to see balanced processing and less in-your-face images than what we've been treated with by the majority of recent flagships.
Indeed, that's more or less the case, but not quite to the point we expected. For one, colors are quite vibrant and not as laid back as you would suppose.
Detail is abundant, and textures are rendered in a very natural way, but ultimately the 20MP color images don't match the 20MP monochrome ones for high-intricacy subject resolution. For a while there we thought it was as simple as blending 12MP color on top of the 20MP detail, but apparently, it's more complicated than that.
Dynamic range in color images is striking and we suspect some auto HDR trickery is involved here. We noticed a comment saying "hdr" within the exif in some picture, even though we didn't use HDR. Then again, those who lacked the "hdr" mention in the exif, were just as good.
The Mate 9 Pro's black and white images are hard to beat for dynamic range, but its monochrome camera is more of a specialty tool, and unless you love monochrome photography particularly, you are unlikely to use it all that often on its own.
The 12MP color samples are great – there is plenty of detail, little noise, accurate colors, wide dynamic range, and the sharpening hasn't been overdone. The native 12MP images are among the best we've seen on a smartphone.
The 20MP hybrid samples can't benefit from more detail, and they clearly look as upsampled from 12MP. They do share all other benefits from the native 12MP ones, though. Since you can't extract more detail with those high-res pictures, we suspect anyone will rarely use this mode.
Finally, the monochrome 20MP images came with plenty of resolved detail – around the same amount as on the 12MP color ones. They have superb contrast, low amount of noise, and best in class dynamic range. Those are perfect for dramatic effects and creative street photography.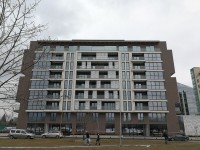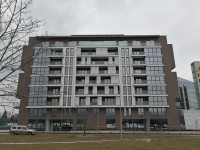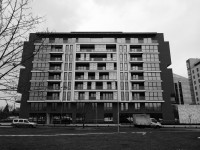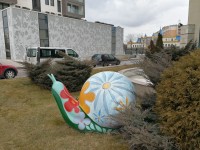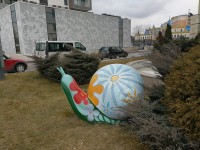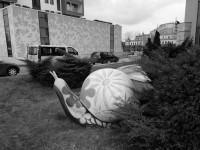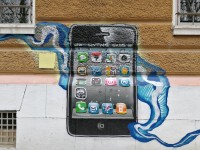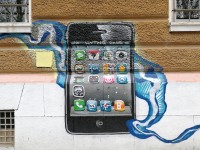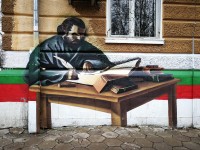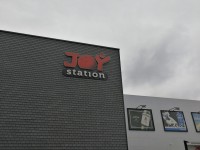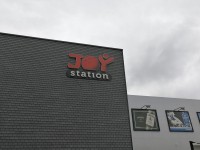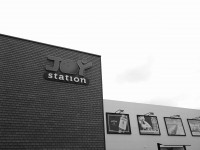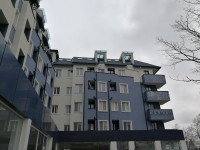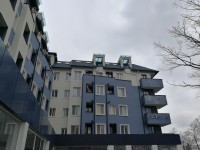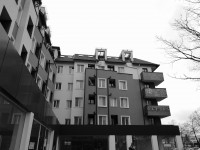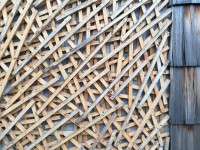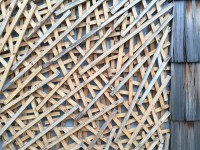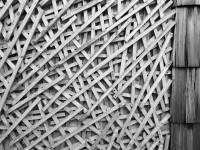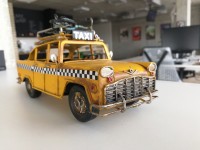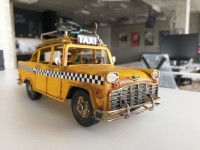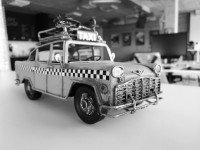 12MP color samples • 20MP color samples • 20MP monochrome samples
As we mentioned before, there is some automatic HDR applied when needed, so the manual HDR is pretty much of no use, no matter the occasion. And that's okay with us.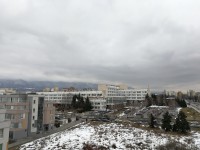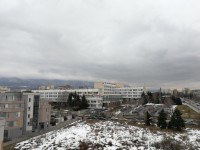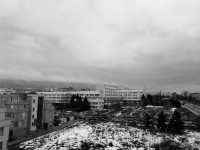 HDR off • HDR on • Monochrome sample
Now, Huawei (and potentially, Leica) sort of acknowledges that the somewhat conservative Leica look may not be to everyone's taste and includes an option for selecting punchier (Vivid or Smooth) color reproduction (though again, default is not bad at all). It's readily available too instead of being buried in the menu, so you can change it on a shot by shot basis.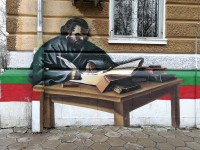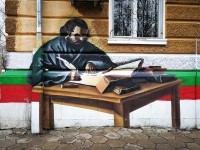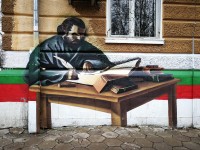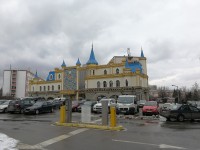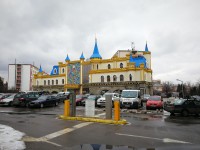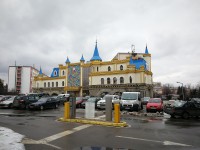 Normal sample • Vivid sample • Smooth sample
The Mate 9 Pro is also advertised for its zoom prowess. It's facilitated by those multiple frames that the camera captures all the time, which give it more data to work with than what you'd get from a single 12MP shot (or 20MP).
Our understanding of it is that by using supersampling, the Mate creates a higher-resolution image, such that its 12MP center portion corresponds to the field of view of the desired magnification. They essentially generate a higher resolution image and then crop a 12MP portion of it. We calculated that the 2x zoom (54mm-equiv. FOV) requires a 50MP upscaled image. The same principle applies for higher magnifications, but the supersampled image needs to be even larger. You don't get to keep those high-res shots, though, the process takes place in the background.
We tried upscaling and sharpening 12MP and 20MP 27mm shots to 50MP in software and then cropping the center 12MP to match the 54mm field of view of the zoomed-in Mate 9 Pro shots and we couldn't achieve the same level of detail that the phone itself is capable of, which means there is a real benefit of using the 2x zoom.
As for image quality when zoomed in – the 2x and up to even 3x – the pictures are excellent with little to no loss in detail. But we know better not to expect much from a 6x digital zoom, supersampling or otherwise. We established that it worked really well to up to about 3x zoom, the 6x setting is mostly for saving you time in post-processing.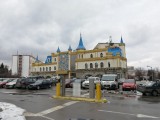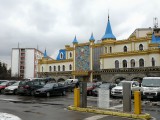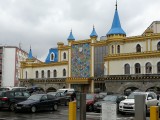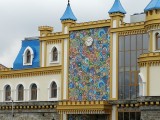 Regular sample • 2x zoom • 3x zoom • 6x zoom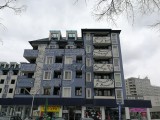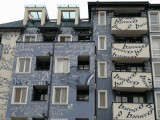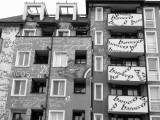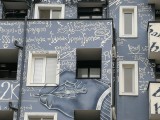 Regular sample • 2x zoom • 2x zoom on monochrome camera • 6x zoom
You can check how the 12MP RGB camera stacks against the Huawei P9's and Galaxy S7 edge's.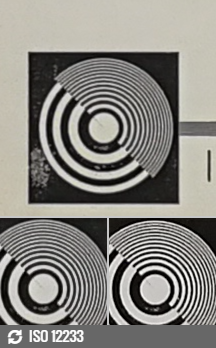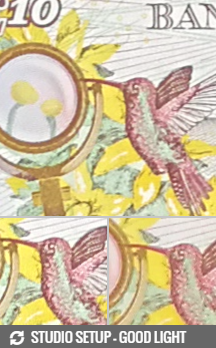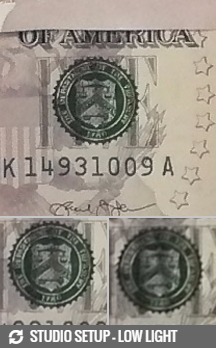 Huawei Mate 9 Pro vs. Huawei Mate 9 vs. Huawei P9 in our photo compare tool
You could also use our tool to compare the monochrome camera and the 20MP hybrid samples, if you like.
Low light
The Mate 9 Pro does an admirable job with low-light settings, preserving detail and, to a certain extent, color. But only if you shoot close-ups as was the case with our Picture Compare Tests. If you are going after landscape samples, the dusk photos are fine, but the night images quite often lack sharpness due to either focusing issues or camera shake even though the Mate 9 Pro is equipped with plenty of tools to help it get them right.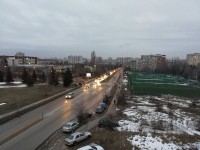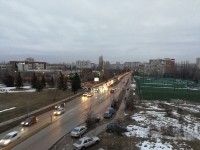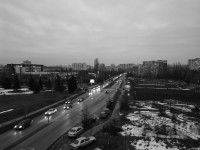 12MP color dusk sample • 20MP color dusk sample • 20MP monochrome dusk sample
And now check the night shots.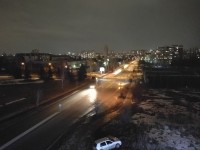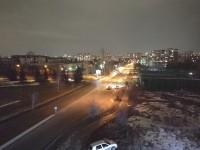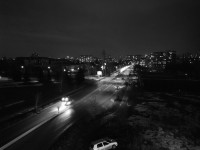 12MP color night sample • 20MP color night sample • 20MP monochrome night sample
Mounting the phone on a tripod did help it get a better focus, though the detail is still severely compromised by the high amount of noise.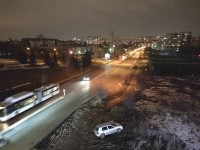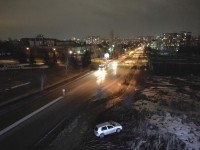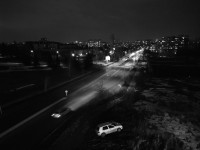 12MP tripod night sample • 20MP tripod night sample • 20MP monochrome tripod sample
Using the manual mode and a tripod does make wonders, though. If you set the ISO at 100 and use manual shutter speed around 2s or 4s, you can get some stunning shots.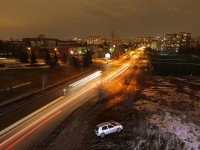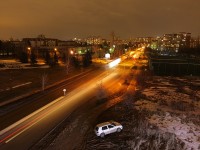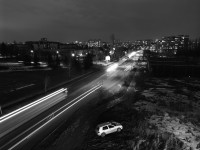 12MP tripod night, 4s • 20MP tripod night, 4s • 20MP monochrome tripod, 2.5s
In full-on Night mode, you can manually select a shutter speed up to 32s and ISO up to 1600. The viewfinder image will change as the exposure develops, so if you figure you've gathered enough light you can stop at any time.
Then there's the Light painting mode, which includes four sub-modes: Car light trails, Light graffiti, Silky Water and Star track. You'd need some form of fixing the phone to stand stable for these, like a tripod or a beanbag, as these extremely long exposures can't be done handheld without camera shake.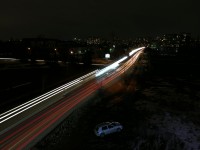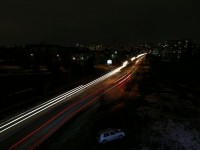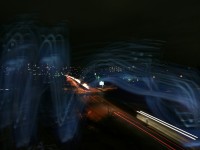 Light Painting – Car Trails, 34.3s • Light Painting – Car Trails, 15.4s • Light Painting – light graffiti, 13.5s
Panorama
The panoramic shots taken with the Mate 9 Pro are very good. They're not the full vertical resolution, but at about 3,100px tall there's plenty of pixels. Detail is on par with still images; stitching shows no obvious issues, and exposure variation is handled smoothly. The dynamic range once again deserves praise.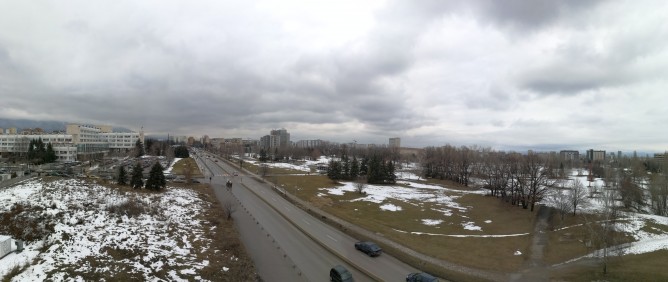 Huawei Mate 9 Pro panorama
Wide aperture mode
Thanks to the depth information the Mate 9 Pro can gather from its two cameras, it can try and reproduce the blurred background of a proper portrait lens. The feature is accessed from the Wide aperture mode toggle and lets you simulate apertures from f/0.95 to f/16.
As with all such implementations it works more often than it doesn't, and now and then you may end up some good portrait shots like those below. They wouldn't hold up to close up scrutiny, but they are still good enough.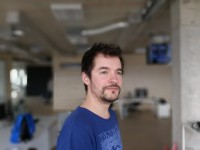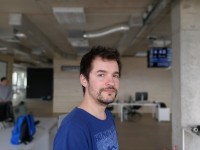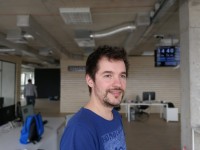 F/0.95 sample • F/4.0 sample • F/6.3 sample
You can play with the wide aperture on some sculptures, too.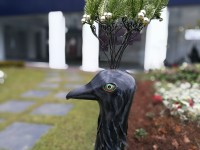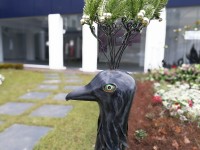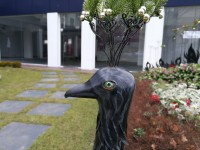 F/0.95 sample • F/4.0 sample • F/8.0 sample
Selfies
The Mate 9 Pro has an 8MP f/1.9 front-facing camera with autofocus. It produces great results in daylight with plenty of detail and pleasing colors, and also quite good dynamic range. On occasion, the Mate 9 Pro's selfie cam may choose to focus on the background instead of your face, so it's worth keeping an eye on the final images.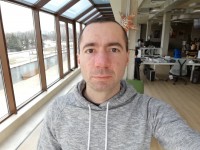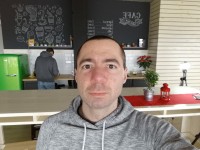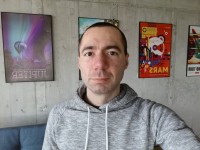 Huawei Mate 9 Pro 8MP selfie samples
There's a beautification feature that when dialed up to the extreme does a remarkably cartoonish and overexposed rendering of reality with oversaturated colors and smeared details. We're clearly not ones to be able to appreciate it, but you can check out the end results below.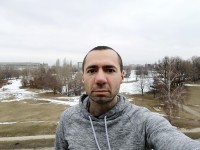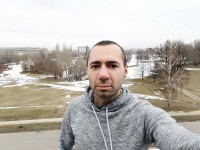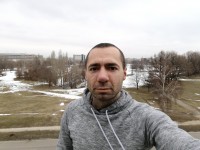 Beauty level 5 • Beauty level 10 • Normal selfie
Video camera
The Huawei Mate 9 Pro encodes its 4K videos using the H.265 codec. The consequences are two-fold. On the positive side, the bitrate of 30Mbps is very low for 2160p footage, and hence files take up less space (compare that to the ~50Mbps MPEG-4 4K videos of most competitors). The downside is that YouTube still doesn't offer support for this standard, so we've uploaded the test samples on Vimeo instead.
We also observed some bad compression artifacts when we examined the Mate 9 Pro videos of our lab test charts. In real life footage, however, we didn't notice any issues. Apparently, the algorithm doesn't like stationary uniformly gray objects. So while we do suggest you check out the video compare tool below, be aware that it's not strictly representative of real world scenarios.
1080p videos use MPEG-4 compression, so they're YouTube-friendly.
The 1080p/30fps videos have a rather standard bitrate of around 17Mbps, while 1080p/60fps is exactly double that – in effect, you'd get larger files per second of footage from the Mate 9 Pro's 1080p/60ps mode, than from its 4K mode. But that's expected as the 1080p videos use H.264 video encoding.
Audio is recorded in stereo at 192kbps, which is great.
4K videos are sharp and detailed and exhibit good contrast and pleasing colors. In our ever-windy shooting location, the Mate 9 Pro managed to cancel out a lot of the wind noise, but not all of it.
As it happens all too often, the 1080p footage is just okay, nothing spectacular. The good thing is that the smoother 60fps mode doesn't come at the expense of detail.
One limitation the Mate 9 Pro enforces on you is that video stabilization only works in 1080p resolution and not in 2160p. That's the software part of it; the optical stabilization is available at all times.
We'd say it does a really good job of stabilizing handheld videos when walking – perhaps the ultimate test for a smartphone video camera. It's also great in that you get a real-time stabilized preview in the viewfinder.
And those two videos below rely only on the optical stabilization. It helps, of course, and limits the shake from the walking.
You can also download the untouched video samples: 2160p (10s, 39MB), 1080p at 60fps (11s, 46.5MB), 1080p at 30fps (10s, 22MB).
And here's the promised video compare tool, where we've pitted the Mate 9 Pro against the Mate9 and Galaxy S7 edge.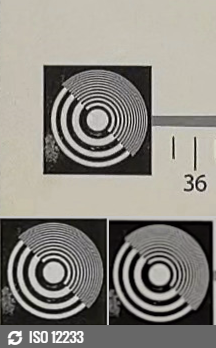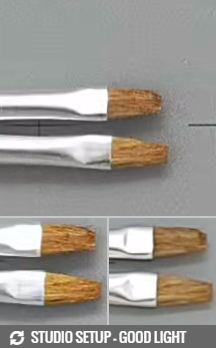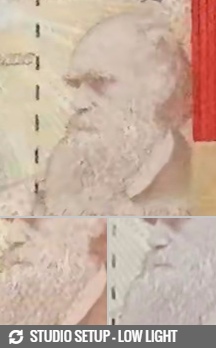 Huawei Mate 9 Pro vs. Huawei Mate 9 vs. Samsung Galaxy S7 edge in our video compare tool
Final words
Huawei Mate 9 Pro is a wonderful conclusion to the Mate 9 series, meeting the market's demand for a premium twist on all recent flagships. The sole existence of the Mate 9 Pro leaves room for the original Mate 9 popularity to grow and thus sell better by being the more affordable and mainstream model, without giving up on any important features.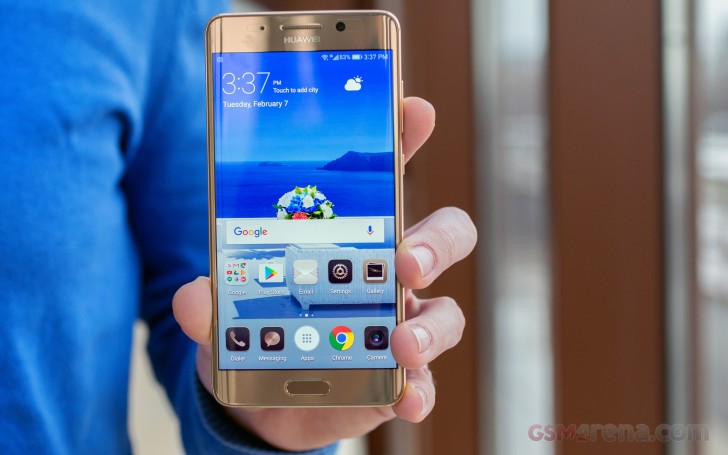 There is also another good reason for the Mate 9 Pro existence – it gives you the opportunity to own the Porsche Design edition without actually paying double for the premium Porsche logos. And the new dual-curved AMOLED screen, the completely different design, and the increased memory are worth the extra $ 100 over the original Mate 9.
We had lots of expectations when we took the Mate 9 Pro for this review, mostly because the Mate 9 had already raised the bar rather high. And the Pro flavor did not only meet those but even managed to exceed some of them.
Its AMOLED screen may not be Samsung-grade in color accuracy and sunlight legibility, but it does surpass most of the current crop of flagships. And the GPU may not be acing the tests, but the processor is top of the line. The rest is quite on par – a memorable design, an amazing camera experience with a great creative potential, a superb battery life, loud stereo speakers, and the pleasant Emotion UI.
Huawei Mate 9 Pro key test findings
Premium build and design, it looks quite familiar, though.
The high-res AMOLED screen has superb pixel density and contrast. Color accuracy isn't top-notch, and the maximum brightness is average.
Solid battery life, excellent at web browsing, very good at video playback, okay for voice calls.
EMUI is a functional Android overlay, even if it has its quirks. Huawei has worked a lot on polishing single-handed operation, and it shows, knuckle gestures are somewhat gimmicky, but the addition of an app drawer will make transition easier for those who are not used to an iPhone-like single-tier interface.
Class-leading CPU performance by the Kirin 960 chipset, GPU doesn't shine but is a substantial leap forward from previous designs.
Very loud and extremely clean output from the built-in speakers.
Multimedia package gets the job done – the gallery is basic, but the image editor is very powerful, the video player has little more than play/pause, and the music app looks good and works well, but lacks an equalizer.
Audio output is loud, but clarity with headphones isn't perfect.
Still images show cautious processing with accurate colors, high detail level, and great dynamic range. The monochrome camera takes these another notch up (minus the colors, obviously). The lossless-like zoom works up to 3x, which is nice.
4K videos are very detailed, if a little noisy, but the h.265 codec makes for problematic sharing. 1080p footage is nothing special.
Huawei Mate 9 had a great foundation laid by the Huawei Mate 8, P9, and the P9 Plus. Putting the Leica camera on a phablet was probably the second-best thing Huawei could have done, with the first being the Leica partnership itself. And the Galaxy Note7 demise surely paved the way for an even more successful Mate 9 series. With the Porsche and Pro flavors, Huawei demonstrated a versatility that very few companies are daring to show.
And we guess the only reason Huawei isn't selling the Mate 9 Pro everywhere is because the P10 generation is just around the corner, and it would have stepped on the P10 toes. It wouldn't have helped the Porsche Design sales either. On the other hand, Huawei made sure all Pro models come with international ROM and warranty, so you shouldn't worry that much about grey imports.
With all that being said, the Mate 9 and P10 aren't the only competition the Mate 9 Pro is facing today. The Galaxy S7 edge with a similar design and specs, but also water-tight, can easily tip the scales in S7's favor. It may not have the Leica tools, but its camera is nothing short of impressive nevertheless (especially its focus). The S7 edge is also cheaper and will get even better deals once the S8 premieres in a few weeks.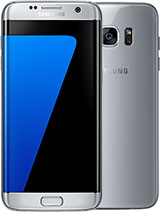 Samsung Galaxy S7 edge
The Mate 9 is cheaper, too, offers the same features, but a bigger screen and even better performance due to the lower resolution. It loses the punchy AMOLED and the premium appearance, but quite a few people will argue the bigger screen is worth the change.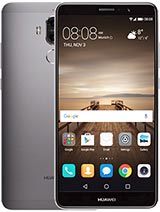 Huawei Mate 9
The LG V20 is one of the best slates out there, with a big high-res screen, Snapdragon 820 chip, and a different take on the dual-camera setups with regular and wide sensors. Its ruggedly handsome design may not be everyone's cup of tea, but it may win you over with professional-grade audio hardware and chips, a secondary always-on screen, and a microSD expansion.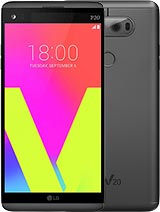 LG V20
The OnePlus 3T, one of the hot picks in the past holiday season, is still as attractive. The 5.5″ AMOLED screen is great, as is the Snapdragon 821 chip, while it sticks to the stylish design and a traditional one-sensor camera. It's way cheaper, though, and yet equally capable in all but camera skills, so if you are not a camera person, check this one out.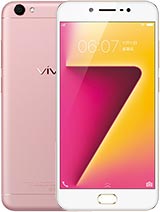 vivo Y67
We have recently reviewed the Meizu Pro 6 Plus, and it turned out quite a capable smartphone. The 5.7″ 1440p AMOLED screen is as impressive as an AMOLED can get, while the Exynos chip is a welcome return to the Meizu's flagship lineup. The 12MP OIS-enabled camera turned out great, and while it doesn't offer the same creativity level as the Mate 9's, it will do a fine job on any occasion. The limited availability and high price may be a turnoff, though.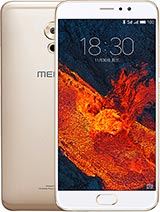 Meizu Pro 6 Plus
The Apple iPhone 7 Plus is in the same price bracket as the Mate 9 Pro. It offers class-leading performance and has an entirely different take on the dual-camera setup – 12MP + 12MP – with a secondary camera with higher magnifiaction. In exchange for a more powerful GPU, you'll have to settle for a less inspiring image quality and imaging capabilities, but the iOS experience and app variety is a tough combination to beat.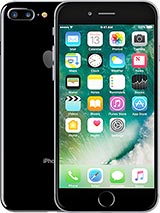 Apple iPhone 7 Plus
Finally, Xiaomi Mi 5s Plus is the biggest threat the Mate 9 Pro could face. The 5.7-inch, FullHD, LCD handset packs a Snapdragon 821 SoC and this makes it faster than the Mate 9 Pro, though the faceplate is less attractive. Xiaomi has pretty much borrowed the Huawei/Leica's idea from the P9 and offers a dual 13MP camera with one color and one monochrome sensor. It lacks OIS, and Leica's exclusive processing, but if you fancy something similar and less expensive, the Mi 5s Plus may turn out to be the right phone for you after all.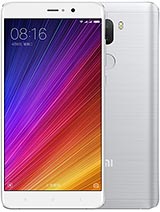 Xiaomi Mi 5s Plus
You can tell we liked the Huawei Mate 9 Pro a lot. It's a fancy device that leaves a lasting positive impression, and easily likable either because of its design, screen, performance, or camera. Or all of these. The only thing stopping the Mate 9 Pro of being a best-seller is the limited availability, which is probably due to the imminent P10 launch. Its fate will be sealed at the upcoming MWC – either overshadowed by the P10 or standing out in spite of it.
Let's block ads! (Why?)
Sourced From: GSMArena.com – Latest articles