Introduction
Ever since we got the Huawei P10 Plus for review, we've been itching to test how the camera compares to the regular Huawei P10. After all, besides the screen size, the wide camera aperture is the second major difference between the two phones.
Huawei is using Leica lenses on both of its smartphones, but the one on the P10 Plus is a higher grade one – a Leica SUMMILUX as opposed to the regular Leica SUMMARIT. These names may not mean much to you, but Leica fans would know that the Leica SUMMILUX camera lenses are much more expensive than the SUMMARIT ones. We are yet to see whether that translates into tangible real world benefits when it comes to smartphones.
So the higher grade lens has a larger F/1.8 aperture, but what else? Huawei also promises better corner sharpness and a more noticeable bokeh in macro shots. There might be some other hidden perks, but we'll have to find those on our own.
We've shot more than a thousand comparative camera samples for this test (along with our P10 Plus review, which is still in the making). We decided to focus the comparison between the two P10 smartphones on low-light scenes as our preliminary tests showed there is hardly a noticeable difference in image quality in daylight situations.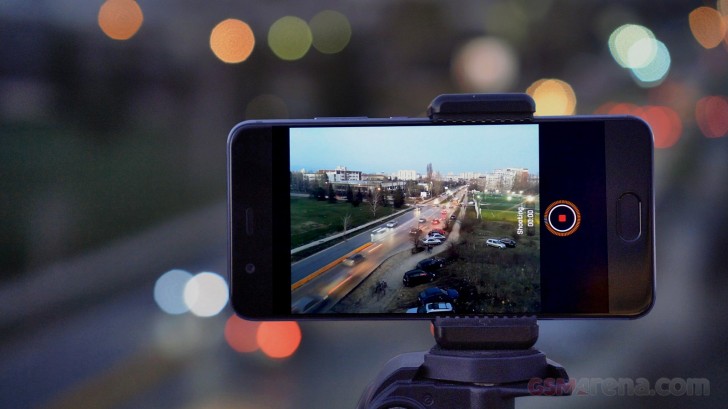 The Huawei P10's market launch was this week, and you may have already heard some of the key specs, but we might as well remind you those in case it has slipped under your radar. We also already have a detailed review of this phone so make sure you check that out too.
The Plus model, however, is taking its time and we expect it to hit the market by the end of April. So consider this a glimpse of what's to come.
Huawei P10 at a glance:
Body: Metal, 6.98mm thick, curved 2.5D Gorilla Glass 5
Screen: 5.1″ IPS LCD, 1080p resolution (332ppi);
Chipset: Kirin 960 chipset, Octa-core processor (Cortex-A73 2.4GHz + A53 1.8GHz), Mali-G71 MP8 GPU
Memory: 4GB RAM, 64GB storage, microSD slot (hybrid, uses SIM2 slot)
OS: Android 7.0 Nougat with EMUI 5.1;
Camera: 12MP OIS color + 20MP black & white, 4K video capture, Leica branding
Camera features: F/2.2 lens, Hybrid Zoom (2x magnification), OIS, can change focus and lighting in photos after they are taken, Variable Aperture, Portrait Mode
Selfie cam: 8MP, f/1.9 Leica lens, Portrait Mode with live bokeh effects
Battery: 3,200mAh; Super Charge
Security: Fingerprint reader (front, under the glass), 0.4 seconds response time
Connectivity: Dual SIM, Wi-Fi a/b/g/n/ac, Bluetooth 4.2 + LE, NFC, USB Type-C
Misc: Stereo speakers, 3.5mm audio jack
Huawei P10 Plus over the P10:
Bigger screen: 5.5″ IPS LCD, QuadHD resolution (534ppi);
Wider aperture: Same dual camera setup but with F/1.8 SUMMILUX lens
Larger base storage: 64GB
Bigger battery: 3,750mAh
Water resistance: IPX3
Misc: Stereo speakers and an IR blaster for controlling conventional appliances as an Infrared remote
As you can see, the differences between these two smartphones go deeper than their screen size alone.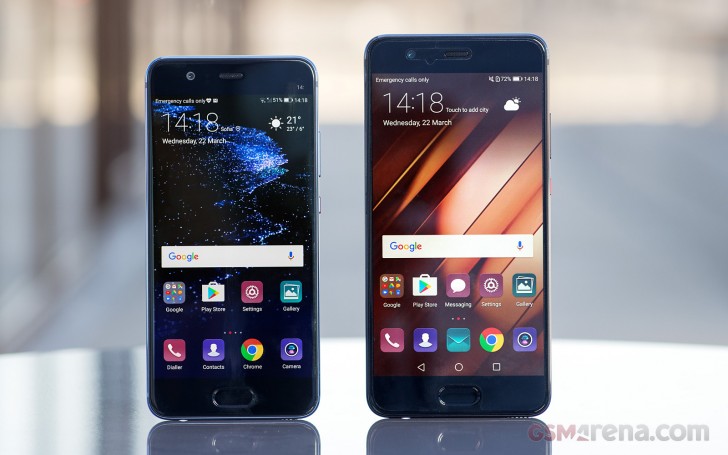 One thing is for sure – when it comes to taking pictures, both cameraphones performed admirably. The advantages of the P10 Plus camera-wise were not as readily apparent as we initially presumed. But the devil is in the details as they say. So we've prepared a bunch of camera samples on the next page for your pixel-peeping enjoyment (ours too), and we'll also present our test findings alongside those. Enjoy!
Evaluating lens quality
The Huawei P10 and P10 Plus have identical dual camera setups incorporating a color 12MP sensor and a 20MP black-and-white sensor. The combination of the two not only provides up 2x lossless zoom and high-quality artificial bokeh effects, but you also get spectacular black-and-white images. The black-and-white camera also has better light sensitivity and better dynamic range than the color sensor.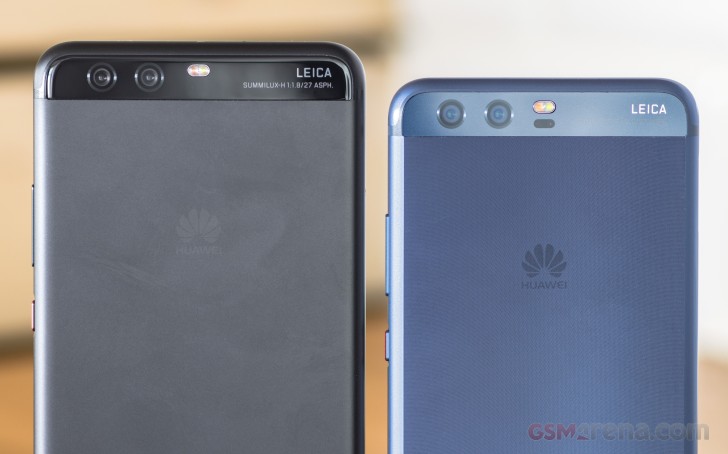 The camera lenses on their backs are hidden behind Gorilla Glass 5, so they are well protected from scratching. However, for some reason, we also noticed that it's much easier for these cameras to get lens flares if the glass is not perfectly clean. We observed that not only with the sun during the day but pretty much with any direct light source after dark such as street lights and similar. And this one is not the pretty lens flare you've seen on stock pro photos.
We're glad to say that the Huawei P10 Plus lens was less susceptible to lens flaring than the P10's. The camera sample below demonstrates that – we shoot directly into the sun with both lenses as clean as possible.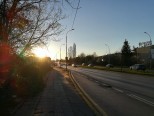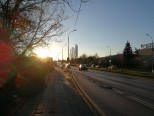 Evaluating lens flaring: Huawei P10 Plus • Huawei P10
On a different note, the autofocus performance of the two cameraphones is identical.
We were expecting the Leica SUMMILUX lens on the P10 Plus to be slightly sharper than the SUMMARIT lens on the P10, but we didn't find any evidence of this in our camera samples. The only exception were the low-light photos where the P10 Plus utilized its wider aperture to shoot at a lower ISO. Of course, the difference there is not due to the SUMMILUX lens being sharper but to the more moderate noise reduction.
These two lenses are identical in another often overlooked aspect, too – corner sharpness. The P10 Plus lens was supposed to provide better corner sharpness than the P10's. However, we didn't spot any issues with the P10 lens. The comparison below will show you that corner sharpness is equally good on both phones. Check out the sharpness of the gravel that spans pretty much across the entire scene.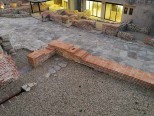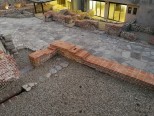 Evaluating edge sharpness: Huawei P10 Plus • Huawei P10
Pro Tip: You can move between the photos in our gallery using the keyboard arrow keys. More importantly, you can keep changing the images with the arrow keys even after you've zoomed in a photo with the magnification glass icon in the top right corner.
With the lens properties and perceived sharpness out of the way, the sole remaining advantage the P10 Plus lens has is the wider F/1.8 aperture (compared to F/2.2 on the P10).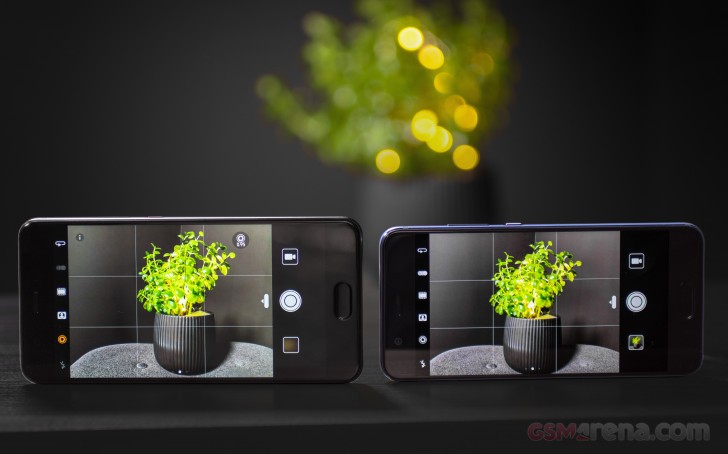 Aperture is one of the three components that determines the exposure on a camera (how bright or dark a photo is). Since on cameraphones the aperture is fixed rather than variable, the wider aperture you get on your phone's camera, the more light would reach the sensor with all other things being equal.
Since more light would reach the sensor through the wider aperture, the camera can adjust the other two exposure components to its benefit without altering the exposure negatively. These two parameters are shutter speed and ISO, and unlike aperture, they are variable.
So a camera that gets more light through the wider aperture can afford to shoot at a lower ISO value resulting in less noise. Another option is to go with a higher shutter speed allowing you to freeze the action and helping against camera shake, which may ruin your shot at low shutter speeds.
There is no right or wrong approach here, so we were curious to see how the P10 Plus put to use its aperture advantage over the P10.
Evaluating low-light performance at dusk
Our first test scene is relatively easy as we shot it before it got dark. While it doesn't present any challenges regarding available light, it reveals another aspect of the wide aperture that you may not realize.
Having a wider aperture has its downsides too. You see, outside of exposure, aperture size is also directly related to the focus depth or the depth-of-field (DOF) as it's technically known. The wider the aperture, the shallower the focus depth is.
With scenes like this one below where you have plenty of detail in both the foreground and background, you will notice that the detail in the more distant areas behind the foreground where we focused manually, is less defined on the F/1.8 camera than on the F/2.2 camera. In this respect, the camera on the P10 might have an advantage in almost every shooting scenario with good light.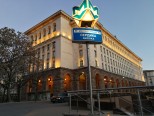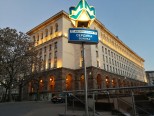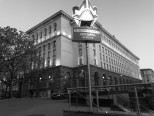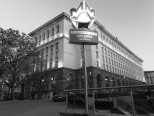 At twilight: Huawei P10 Plus • Huawei P10 • Huawei P10 Plus • Huawei P10
So the narrower the aperture, the more likely it is that the entire scene would be in focus. Well, yes and no. That's indeed the theory, and we just gave you a good example of that, but the reality is slightly different. It turned out that the focus performance of these two phones was quite unreliable after it went dark – even when we locked the focus in the camera viewfinder. It's one of the reasons we discarded quite a few of our camera samples – they were less sharp than the camera is typically capable of.
So here's a similar scene where the P10 should normally have more of the scene in perfect focus and yet, it's not the case.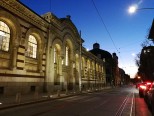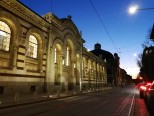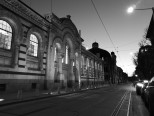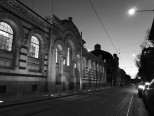 At dusk: Huawei P10 Plus • Huawei P10 • Huawei P10 Plus • Huawei P10
Have in mind that we observed the inconsistent focusing performance in both models – it's not limited to the P10. Here's another example where you will clearly see that the intricate details on the building's facade are better defined on the P10's photo even though it shot the scene at a significantly higher ISO (ISO 1000 vs. ISO640). The colors also seem much livelier on the P10, but that could be due to the particular white balance it has chosen to use so we'll not dwell much on it.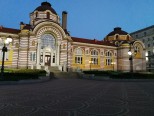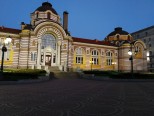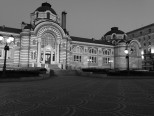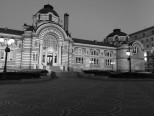 At dusk: Huawei P10 Plus • Huawei P10 • Huawei P10 Plus • Huawei P10
Evaluating camera performance after dark
Even when it gets darker, both of these cameras can pull their weight. Interestingly, the P10 Plus would sometimes go for lower ISO and use the same shutter speed as the P10 (which usually produces slightly sharper details), while other times it would prefer the same ISO as the P10 but shoot at a faster shutter speed for no apparent reason.
When it comes to shutter speeds, the lowest these two would go down to in Auto mode is 1/4s. That's a generously long shutter speed, which would certainly be hard to handhold even with the help of the optical image stabilization system (OIS). Good thing we had them set up on a tripod while taking photos. In these cases, the shot to shot time was also significantly longer as the camera applied extra processing and we got this in the camera viewfinder: "Sharpening the photo, please wait."
An odd limitation we noticed is that if you have the Pro mode activated, the cameras would only go as low as 1/17s even if you still relied on the camera's auto value adjusting. So unless you feel comfortable adjusting the shooting parameters in Pro mode, a good tip for shooting with these phones in the dark is to keep the Pro mode off.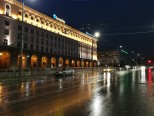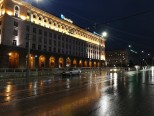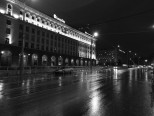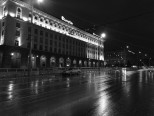 At night: Huawei P10 Plus • Huawei P10 • Huawei P10 Plus • Huawei P10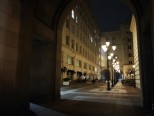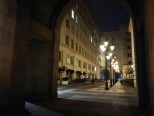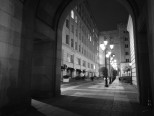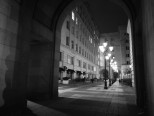 At night: Huawei P10 Plus • Huawei P10 • Huawei P10 Plus • Huawei P10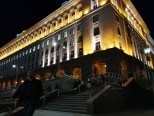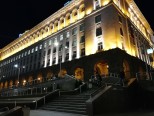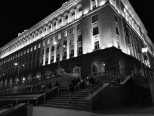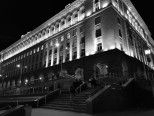 At night: Huawei P10 Plus • Huawei P10 • Huawei P10 Plus • Huawei P10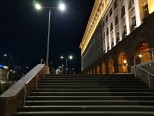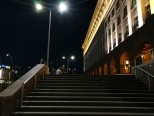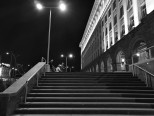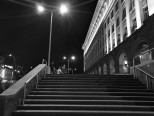 At night: Huawei P10 Plus • Huawei P10 • Huawei P10 Plus • Huawei P10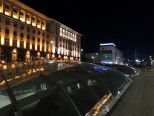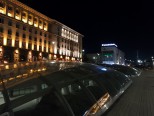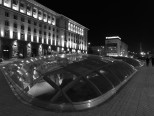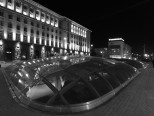 At night: Huawei P10 Plus • Huawei P10 • Huawei P10 Plus • Huawei P10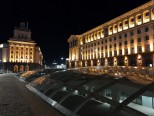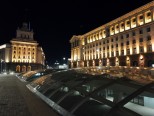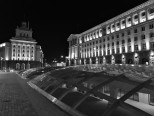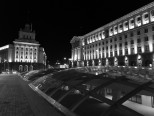 At night: Huawei P10 Plus • Huawei P10 • Huawei P10 Plus • Huawei P10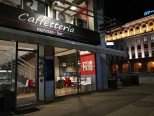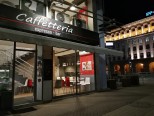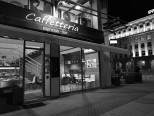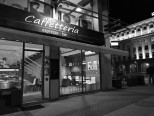 At night: Huawei P10 Plus • Huawei P10 • Huawei P10 Plus • Huawei P10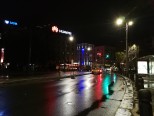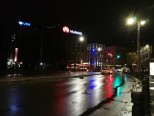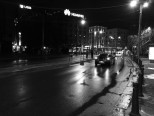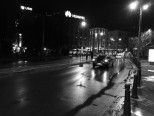 At night: Huawei P10 Plus • Huawei P10 • Huawei P10 Plus • Huawei P10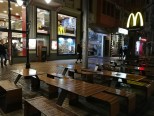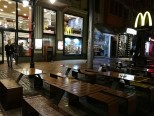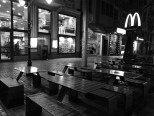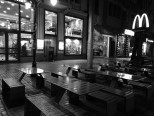 At night: Huawei P10 Plus • Huawei P10 • Huawei P10 Plus • Huawei P10
The ISO on both phones maxes out at 3,200, which is reasonable but not class-leading. Since we only later realized the limitation of the Pro mode, for this next extremely dark shot the cameras couldn't go as low as 1/4s with the shutter speed and they found it hard to expose this scene properly. Both used ISO 3200 and a shutter speed of 1/17s and it's in this particular scenario that the wider aperture on the P10 Plus helped it expose the photo better. The church walls are way too dark on the P10 color photo.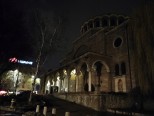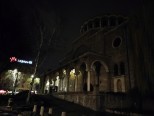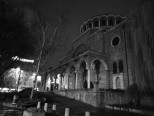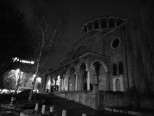 Pushing the ISO to the max: Huawei P10 Plus • Huawei P10 • Huawei P10 Plus • Huawei P10
Conclusion
Just by looking at the photos on this page, you probably already know we're dealing with some pretty good cameras. We're happy with their lens quality, and we are happy how they captured the city sights at night.
In our observations, the Huawei P10 Plus preferred to expose the scene the same way as the P10 but with a lower ISO. The advantages of this, however, are not as apparent as you might think. In fact, sometimes you might get photos from the P10, which are sharper. And why is that? Well, that brings us to our third takeaway from this test.
We also learned that both of these cameras are inconsistent in their performance – even more so in low light. Many of our low-light photo samples were simply not as sharp as the camera's best samples. And that's with a tripod and extra care to lock focus on one and the same spot before taking the photos. When shooting casually on the go, you might get even fewer keepers if you are not careful. Of course, your mileage will vary.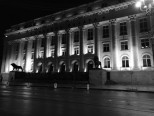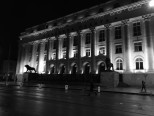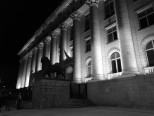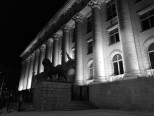 In black&white: Huawei P10 Plus • Huawei P10 • Huawei P10 Plus • Huawei P10
Our final takeaway is that the B&W camera sensor is indeed noticeably more sensitive to light just as advertised. And you can usually achieve the same exposure with much lower ISO. Of course, not every image would look good in B&W but those that do, have better-exposed shadows due to the wider dynamic range.
Overall, Huawei's dual camera system is a win. We are happy with the entire package, and we didn't even touch upon the special shooting modes such as light painting or car trails, which are unique to Huawei. The wider aperture might not be enough of a reason to pick the P10 Plus over the P10, but the bigger model has other advantages too so choosing between the two will not be an easy call. Rest assured, though, that whichever you pick, you should be happy with the camera.
Let's block ads! (Why?)
Sourced From: GSMArena.com – Latest articles