Picked up a new 2017-edition Galaxy A5 smartphone? We've got a full range of cases and covers, including official Samsung options and loads of third-party cases with different colours, features and flavours. Here are five of our top-rated Galaxy A5 cases!
n.b. Be sure to get the right cases for your phone — these ones are for the 2017 Galaxy A3! Check out Galaxy A3 (2015) cases or Galaxy A3 (2016) cases if you need something else. If you're not sure which model you have, read our guide to identifying your Galaxy A-series model. Thanks!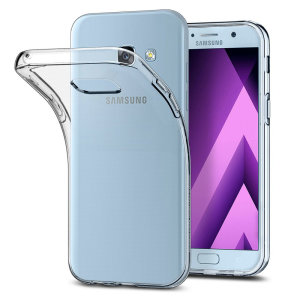 8. Olixar Ultra-Thin Clear Case
We begin with Olixar's Ultra-Thin Clear Case. This no-frills case protects your phone from getting scratched or knocked about, and its transparent body ensures you can still see your Galaxy A5 inside. The case's coating prevents it from slipping out of hands or off slick table tops, while a raised bezel provides some protection to the screen — although we still recommend the use of a screen protector.
Shop now >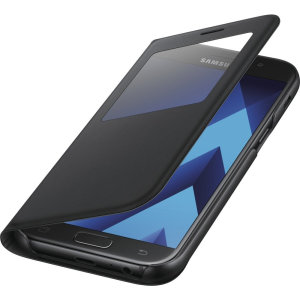 7. Samsung S View Premium Cover
Want a fancy case for your A5? This is one of the fanciest you can get. It's a premium flip cover case, made by Samsung themselves, which has a clear window that allows you to see the time, calls and other notifications. Better yet, you can touch the clear plastic to actually control your phone, so you don't have to open the cover to answer an incoming call, take a photo or skip a song you can't stand. It comes at a price, but this slim and stylish cover is also supremely practical.
Shop now >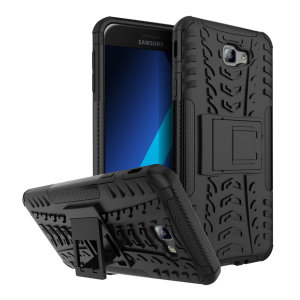 6. Olixar ArmourDillo Tough Case
The ArmourDillo is our go-to recommendation for anyone looking to protect their phone from drops and knocks without spending a whole lot. The case has a ridged exoskeleton that makes it hard to drop and well armoured against any damage, and even conceals a built-in stand for watching movies on the go. This case is a little bulkier than its peers, but you'll be laughing when your phone survives and your friend's in a slim case doesn't.
Shop now >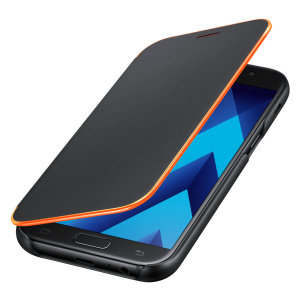 5. Samsung Neon Flip Wallet
This is a new one from Samsung: the Neon Flip Wallet! This official cover comes in four radical colours, giving your phone a breath of originality. The case is useful too, with room for storing an ID or credit card within the front cover. The case also supports sleep/wake functionality, meaning your phone will unlock when you open the case, and lock itself again when it's closed. If you want Samsung's enviable style at a reasonable price, this is a great shout.
Shop now >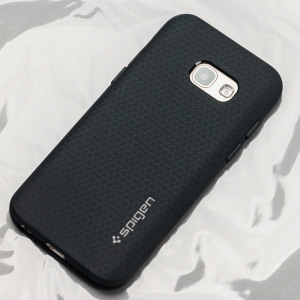 4. Spigen Liquid Air
The Liquid Air sounds like a bit of a misnomer, but it's actually a very solid case (chemistry joke). The slim and lightweight body is marked with a triangular pattern, providing a good grip, soft touch and a modern look. The case includes cutouts throughout too, so you can easily take photos, recharge your phone or listen to some music. It's worth noting that these particular features are available on all of the cases listed here today, as they're all made for the Galaxy A5 2017 specifically instead of being generic cases. Awesome.
Shop now >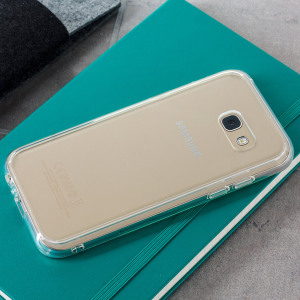 3. Rearth Ringke Fusion
Want an upgraded version of the Olixar Ultra-Thin 100% Clear Case we saw earlier? You're looking at it. This clear case offers more protection and a more stylish look than the budget Olixar option, and therefore comes in at a slightly higher price. Personally, I think it's more than worth it, thanks to a hybrid design that absorbs impacts better than you'd expect and a special coating that prevents scratches — awesome.
Shop now >
2. Olixar Leather-Style Wallet
This leather-style wallet is another strong budget option, giving you the classic look and feel of leather without the expense of the real deal. The case includes a card holder that lets you keep your most important cash or card with you, while the stand allows you to keep an eye on incoming notifications or watch films on the train. This case is surprisingly slim for a wallet case too, making for an all-around strong choice.
Shop now >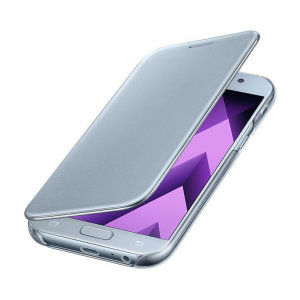 1. Samsung Clear View Cover
This is the most expensive official case available for the Galaxy A5 (2017), but it's more than worth it. The case goes a step further than the S View case we saw earlier, allowing you to see the time, battery life, incoming notifications and much more without even opening your case. That's done with a semi-transparent front cover, which even doubles as a mirror when it's not in use. The case looks fantastic on any colour A5, and it's a natural choice for our top spot today. Try it yourself and let me know what you think!
Shop now >
What do you think of our case selection — did you find something that looked good, or were you left wanting more? Let us know in the comments below, and we can improve our range based on your feedback! Thanks for reading, and enjoy the rest of your day!
Let's block ads! (Why?)
Sourced From: Mobile Fun Blog