It's finally time! Announcements have been made, switches have been flipped, and our full launch range of 100+ Galaxy S8 cases and covers has finally gone live! As you're pressed for time, here are ten of our absolute favourite Galaxy S8 cases.
10. UAG Metropolis Rugged Wallet
The UAG Metropolis is our first entry, and it's a beauty. This rugged case looks like a typical tough case from the back, but on the other side you'll find a screen-protecting flip cover that conceals a credit card slot. The case is even water-resistant, thanks to its unique FrogSkin exterior. This combination of protection and practicality makes this one of the best Galaxy S8 cases on the market, and it's available in 'magma' or 'black' colourways.
Shop now >
9. Official Samsung Keyboard Cover
This case is all about the keyboard it adds to your phone. If you're a fan of classic hardware keyboards, like you'd find on an old BlackBerry phone, then this is an awesome choice. It works in a really clever way too, literally tapping on the software keyboard on the screen below, so it never needs pairing or recharging. Awesome.
Shop now >
8. Olixar X-Duo Case
This stylish case adds modern carbon fibre to your Galaxy S8, while leaving the camera, fingerprint reader and other features readily accessible. It fits the phone perfectly, cloaking it in a lightweight protective barrier that prevents accidental damage without adding significant bulk to your phone.
Shop now >
7. Hansmare Calf Wallet Case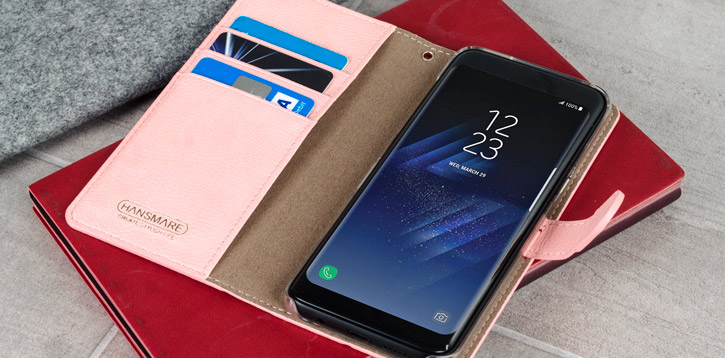 This calf-skin wallet is one of the nicest available for the Galaxy S8, and is a perfect choice for anyone looking for the classic look, feel and smell of real leather. The case includes a stand so you can watch videos or keep an eye on incoming messages, plus credit card slots that ensure you don't need to bring your wallet with you whenever you go out. All in all, it's a practical and good-looking case for a fair price.
Shop now >
6. Official Samsung Silicone Cover
This official case from Samsung is a great protective option available in some truly great colours — six in all. The case has a slim yet stylish design, and is fully Qi wireless charging compatible. The case is an official Samsung production, so as you can expect it fits the phone like a dream.
Shop now >
5. VRS Design Crystal Bumper
The Crystal Bumper from VRS Design is a great choice if you want to fully show off your Galaxy S8 without subjecting it to scratches or dents. This bumper adds good protection to the sides of your phone, while a clear back panel prevents damage there too. The case is one of the lighter options on the market, and is a strong all-around choice.
Shop now >
4. Spigen Tough Armor Case
This Spigen case is one of the most popular on the market, and it's easy to see why. The case has well-considered protective properties, including a 2mm lip around the screen and advanced shock absorption technology that make it one hard nut to crack. I also love the integrated kick stand on the back of the case, which is perfect for watching videos on the plane, train or bus.
Shop now >
3. Love Mei Powerful Case
Love Mei produce some excellent bumper cases, which are constructed from aircraft-grade aluminium to provide top-notch protection against drops and knocks. The case is actually screwed on around your phone, ensuring it stays in place until you want it off again, resulting in a tight fit and minimal added bulk. The case also seals the audio and charging ports until they're in use, preventing dust and grime from building up inside. Best of all, these cases look and feel the absolute business; they're a great premium option for the Galaxy S8.
Shop now >
2. Olixar ExoShield Tough Snap-on Case

This snap-on case provides moderate protection while adding minimal weight and bulk. The case is also transparent, allowing you to easily show off your new phone without risking damage by going naked. The phone is made from robust plastics for long-lasting protection, with design elements like reinforced corners and raised bezels to keep your phone safe. Given its price and size, this is a great value proposition.
Shop now >
1. Official Samsung Alcantara Cover
Samsung always produce some top-notch cases for their phones, but their new Alcantara line is superlative. The case has a unique textured design that looks great and makes your phone fit easily into your hand, while different colour schemes allow you to show your style and personality. The case is an official product, so it will fit your S8 perfectly and it'll be available very soon too. If you are looking for a colourful slim case that doesn't get in the way, this is a strong option.
Shop now >
Wrapping up
Thanks for checking out the article, and be sure to let us know what you think in the comments below. If you have any questions, let 'em have those too. Thanks again and enjoy your day!
Let's block ads! (Why?)
Sourced From: Mobile Fun Blog